There is no better gift than doing a boudoir session.
We said it and we mean it. The foundation of who we are and how we are in our relationships stem from how we feel about ourselves. If you are wanting to gift a Christmas boudoir present to your partner so they can do a session or if you are wanting to do the session and then gift the results as a Christmas present there is a few things you should be prepared for.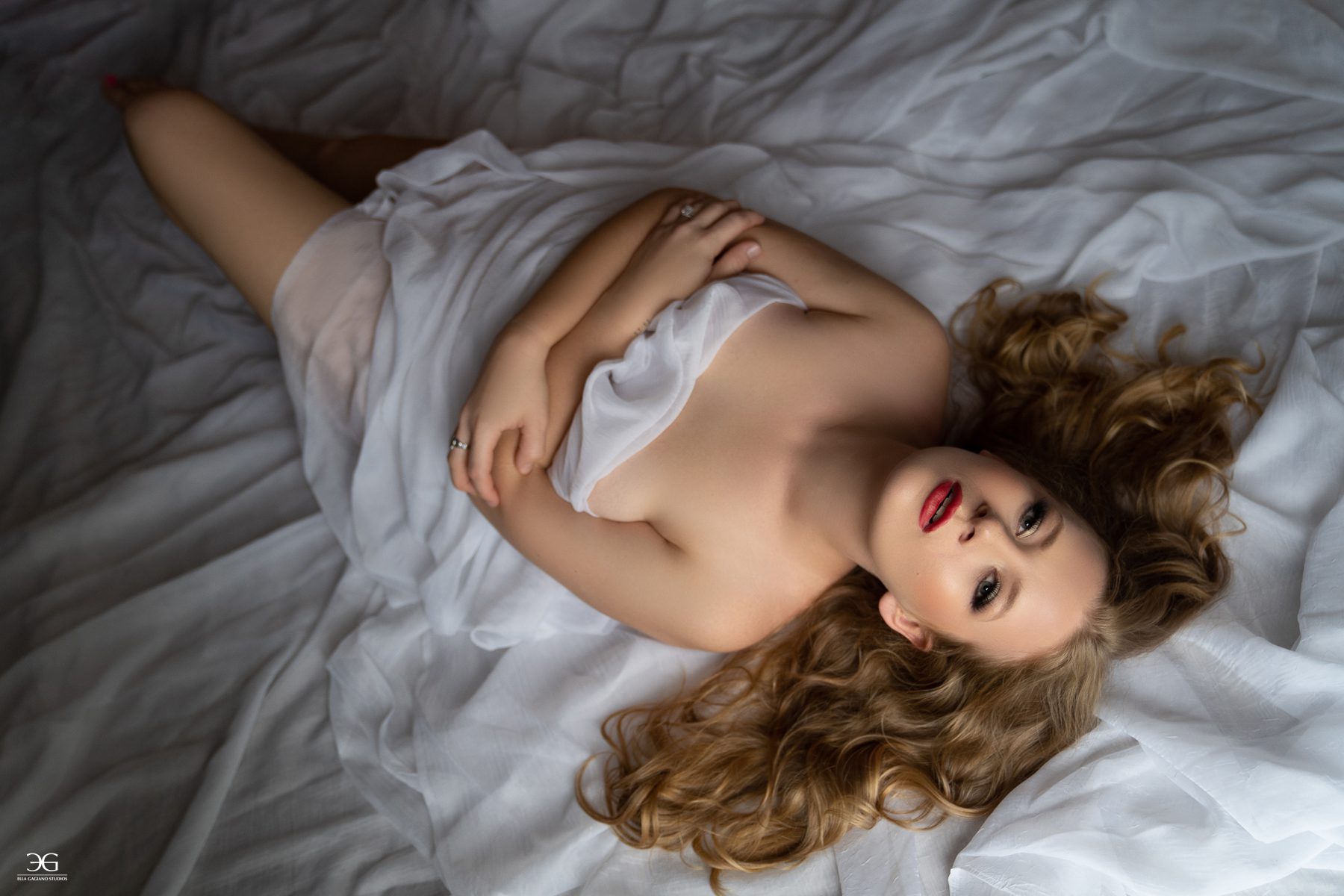 When you do your session you are going to walk away feeling on top of the world. You have yet to even see your photos and you are already on cloud 9. It is going to effect the way you carry yourself, the way you see the world, and how happier you feel everyday.
When you get home it's like you've got a little secret just for you, that honestly you are probably going to be dying to share with your husband! We find our clients struggle to keep the secret as they are beyond happy and feel so sexy afterwards. They find themselves connecting with their partner more in ways they did not realize were missing. One of the things we hear often is our clients don't feel sexy, they are worried about how they look, they either don't have time to take care of themselves because they are taking care of everyone else or they find themselves hiding away due to their insecurities. Whatever their reason they always tell us their husbands love them and always tell them they are beautiful but they just do not believe it.
Can you imagine how frustrating it can be to love someone and you find yourself arguing with them and trying to prove to them over and over that they are gorgeous? And how frustrating it can be when they feel like they don't get all of you because you cover up and hide yourself in moments you should feel free and confident or even worse you hold yourself back from experiences in life you would love out of fear of not being good enough?
And as women we know how it feels first hand when our partners do not understand why we feel the way we do and wish we could just magically feel awesome about ourselves but it doesn't matter what they say because we still see our flaws and have no clue what to do. (And trust us we have tried a lot of things!)
So, we get it. Which is why we focus on creating a boudoir session that highlights who you are and what makes you beautiful. We want you to see yourself from the eyes of those who love you. No longer be the person who looks in the mirror filled with criticism and searching for flaws and imperfections. Be the person who remembers a mirror does not show you at your happiest, or when you are excited, on cloud 9, living your best life. They do not show us the life and energy we exude, but a photoshoot can when you are with people who allow you to be you, who show you how beautiful you are and how sexy you can be.
The best gift you can give and receive is yourself and we are here to make that a reality, not just during the photoshoot, but for years to come.
We want you to remember that often times the only time you look at yourself is to criticize and when you change your perspective you will change your life.
How do I make this happen?
Call our studio and we will talk about what you are nervous about, what you are excited about and ultimately what you need. What makes you feel sexy, and when was the last time you felt that way? What does your husband love about you, not just your physical looks, but who you are as a person. When do those moments usually happen. These are the moments that you are you, and you are the amazing woman that is loved. Now we get to plan a session custom to you to make these moments come out and to be showcased.
During your session we will absolutely take care of you. From hair and makeup to posing, you only need to show up and be ready to have fun. The session is the easiest part of your entire experience. We cannot speak for our clients, but the one thing we hear over and over is how comfortable they felt, how Ella made them feel beautiful and how much fun they had. It's something that all we can say is you need to experience first hand to truly understand what it can do for you.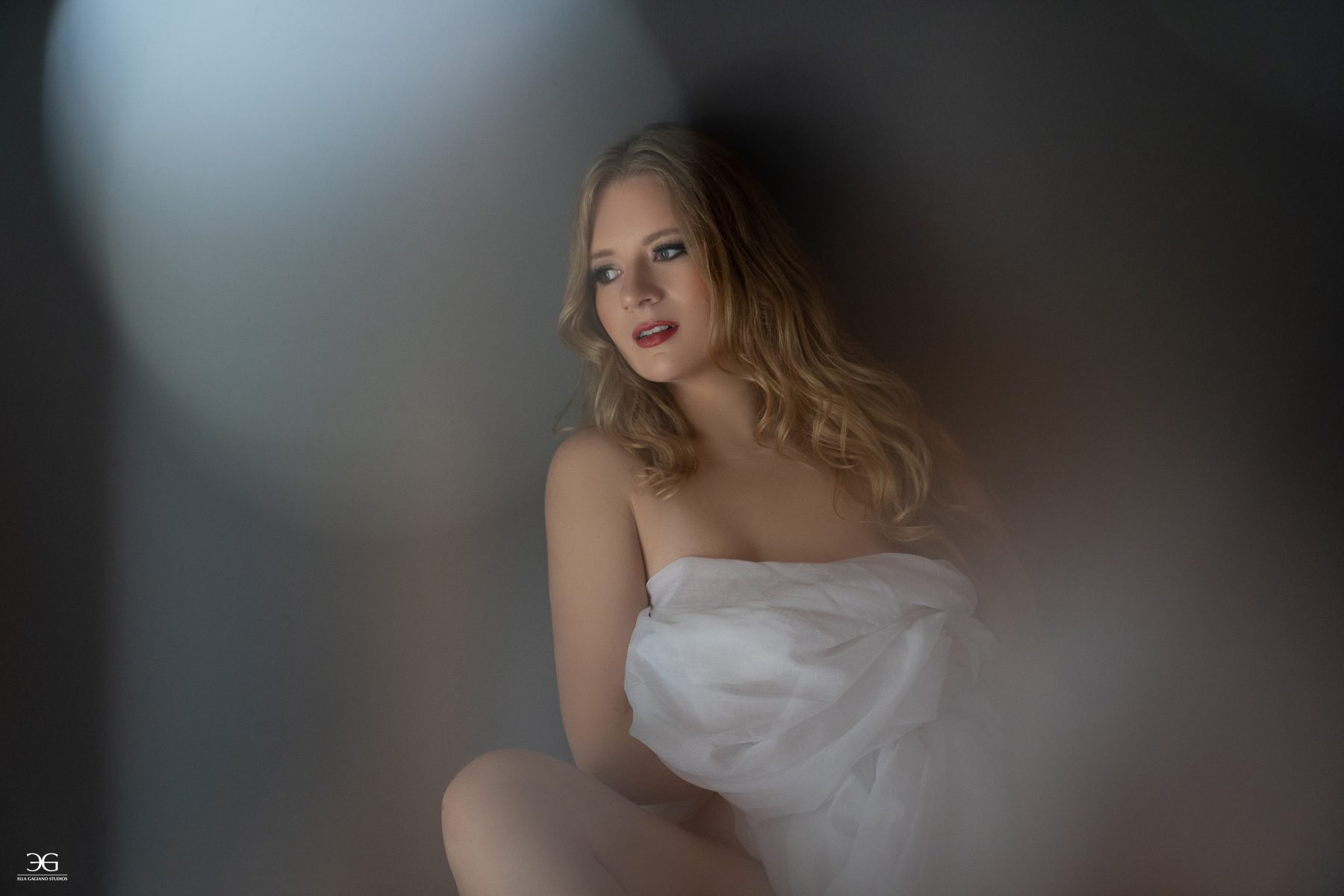 After your session we will edit your photos and have you come back in to design the ultimate Christmas Boudoir Present. What does that mean exactly?
Creating the Perfect Christmas Boudoir Present
The first thought boudoir brings up is looking sexy and having your man's jaw drop when he sees these photos right? And the second thought is holy crap that is me and I NEED to see myself looking that good all the time. (it's okay to say that, we support your ego 110%)
So how in the world do you make that happen??
Wallart
Think Terry Crews in White Chicks.
If you have yet to see it, please go check it out, if you don't know the reference just imagine a portrait of Terry Crews lying down with nothing but a fur blanket hanging on his mantle. This is the kind of desire we want you to have for yourself. We are here to support your confidence in wanting to see yourself look that sexy every day.
If you are ready for this kind of wow factor and confidence boost we will design custom luxury wallart just for you. It helps if you take a photo of the place in your home you imagine placing your wallart in. The place in your home that you want to be reminded of how sexy, beautiful, and confident you are.
If you are unsure of the where, think when is it the hardest for you to believe in yourself, when do you need to be reminded of how sexy you truly are? Is it first thing in the morning when you are getting ready and want to start your day feeling empowered? Or is it best at night when you come home from a long day and want to remember what is looks like to feel free and have fun? Or better yet, when do you want your husband to walk in and be reminded of how sexy his wife his and how lucky he is to have you in his life?
The where is up to you, but the impact it has will be long lasting. We will customize the perfect piece for the location of your choice as a daily reminder that you are enough, you are amazing, and you shouldn't let anything hold you back!
Album
This is where discretion and enjoyment go hand in hand. We would absolutely love for every single of one of our clients to walk out of our studio with wallart of all their favorite phots, but we know that is not possible, especially because our clients love all their photos and that is just not realistically possible to hang up 60+ photos.
Our albums are the perfect solution to enjoying all your photos in a way that still makes an impact everyday on how you feel about yourself. We have different options based on our clients own aesthetics that fit perfectly with anyone who likes the more traditional route, or who wants to keep it modern, we also have the a luxury line that will guarantee a statement for those who need to be bold and stand out.
Digitals
We do not forget about digitals here, we know that having a daily reminder is a must but you also want to be able to show off your photos to your friends and send a teasing text every now and then to your man when he isn't near you. For those who wants to be a little extra we also offer the option of your very own mobile app. What ever your needs are we are here to help create it.
Whatever it is you want we are here to help create the perfect Christmas Boudoir Present designed for just you!
While these are the three of our most popular options you are not limited by what this blog states, we ultimately recommend giving us a call and we can go over all the details of what will fit perfectly for you to create a gift that will wow. We are here to help you! Also for any of the guys who are wanting to gift this, you have it so much easier, we offer gift certificates to allow for her to come in and have an amazing time and decide on what she loves and what she wants to create so there is still a surprise for you at the end.

What makes a boudoir session the perfect present?
That is the million dollar question right there. We see and speak with hundreds of women every year, and have heard first hand their fears, their concerns, the why's and the no's of doing a boudoir session. It ultimately boils down to not feeling good enough and wanting to see themselves in a different way.
We only have one life, and not to be dramatic but it is time to start living it!
Our confidence completely changes how we are and what we do in life. Imagine waking up every day and feeling like you are good enough, that you can do anything. Imagine with us that you stop looking in the mirror to criticize but to feel confident in your decisions. You start to wear the clothes you love, you go to the beach with out fear, and you stand a little taller because you are not afraid to be seen.
Boudoir is a life changing experience, this is a gift that excites, inspires, and empowers as time goes on. There is nothing better to give someone who loves you the gift of being yourself and owning it. There is no better gift to receive than someone believing in you and knowing you deserve to feel confident and sexy every day and wants you to know it.
Stop waiting for the perfect time, create it. Let this be the perfect excuse and make it not only your Christmas present but his as well!
Contact us today and be prepared to walk away an entirely new and confident person.