Valentine's Day Boudoir Photography
Do you want to give the perfect Valentine's Day gift to your SO? If so, contact us to schedule a fun and empowering boudoir photo experience.
We are experts at bringing your stunning natural qualities to the forefront and leaving your SO feeling wowed.
Who Does Valentine's Day Boudoir?
Women and men ranging from their 20s to their 60s+ enjoy this exquisite art form.
It's perfect for creating a gift that you know your SO will love, because there is really no better gift than yourself.
Other than gifting your SO an empowering and uplifting boudoir session for themselves.
Our Valentine's day boudoir is most popular among women and men who want to create a spark in their relationship, celebrate the love and passion they have had since day one.
It is for women who are loved so completely and are seen so beautifully but struggle to see it. It's the perfect way to say I love myself and I see how much you love me.
Your love is worth celebrating and our clients age range from 20 – 70, with most of them being in there 40s, 50s, and 60s.
If this is you, we encourage you to call us. We are an all-female studio that specializes in boudoir photography for the every day women.

What Is Included In Your Valentine's Day Boudoir Session?
Our boudoir sessions include a private space in our two story studio where our team solely focuses on you. Each session is booked for one client where you will be able to relax and feel comfortable.
Our hair and makeup team will take care of you and create the perfect look for you. If you know nothing about makeup, don't worry as they focus on what your goals are and will create a look around that.
If you want to step out of your comfort zone and go bold, we got you, if you want to have a more natural look, they can do that. At the end of the day it's about what makes you feel the best.
While you are having your hair and makeup done you are more than welcome to have a glass of champagne, after all this is meant to be fun and relaxing – so treat it like a girls day out.
For our Valentine's day boudoir sessions we know how important it is to convey the love, passion, and desire you have for your SO and Ella will create looks specific to how you want to convey that to your partner.
And don't worry all of this isn't a guessing game, leading up to your session we provide one on one consultations to figure out exactly what your SO means to you, what you want the photos to say, and help you figure out the best outfits for your session.
One of the BEST things about working with us is our flexibility and range of offerings. For us, boudoir is an art form, and your feelings and story are the canvas, so we focus on providing a fully customized photography experience.
Message us anytime with your ideas on our Contact page.
What Are Your Valentine's Day Boudoir Sessions Like?
Our Valentine's Day boudoir sessions are creative, fun, and professional.
We work hard to create a safe and comfortable environment where you feel empowered to spread your wings and try something new.
Our studio is an all women studio, so from the first call to the last meeting you will be working with women who are just like you.
We are everyday women and understand how nerve wracking it can be to open up and be vulnerable, but we also know how empowering it is to be yourself and celebrate that.
Instead of focusing on what you look like, we focus on who you are first and foremost.
Respect, Care, and Celebration
We treat all of our clients with care and respect and we believe to photograph our clients from the eyes of a loved one. If we see you the way they see you it becomes more than capturing an outstanding gift for your partner, it becomes this
When we see you the way your partner sees you it completely changes what a Valentine's day boudoir session is about.
Imagine: you have heard from your partner how beautiful you are, how much they love you, and how you shouldn't be worried about how you look, but no matter how many times they say it you still struggle to believe it.
If you are like us it also sometimes makes for some aggravating conversations in your relationship.
The truth is our partner really believes we are beautiful, stunning, worthy of being loved, but we stop ourselves from believing that.
The gift of a boudoir session is not about what it does for your partner but what it does for you and how that completely effects the rest of your relationship.
You will walk out seeing and believing all the beauty they've ever told you, you will go home and on Valentine's day gift your partner an album and say this is for you.
And in that album every photo will tell them you trust them, that you see what they see in you, and that the way they love you is noticed. You will say you make me feel sexy and I love you.
A Personalized Experience
To ensure we represent the real you with 100% authenticity, we give you a phone call before booking your session to discuss what's most important to you.
For couples' boudoir, we explore what is important to both of you before your session, that means leading up to your photoshoot we will want to have calls with each of you!
If you wonder why we say let's make a phone call happen, reread everything above and know that there is no way we can offer you a life changing experience through texting/email. Our goal is to give you the best service possible and that means getting to know you.
A Note About Our Pre-Session Phone Call
Our customary phone call is a pivotal step in your session since it is how we figure out what you want and the best ways to help you achieve your goal.
We will also use the opportunity to address any concerns; we know for most of our clients this is the first time you've ever done a boudoir session and we definitely understand the nerves that come with it.
Don't worry, we often hear "I wish I could be as confident as the women in your portfolio" and every time we hear this we laugh and say don't worry you already are.
Our clients are camera shy, many times this is their first professional photoshoot and have no clue what to do in front of the camera, they don't even own lingerie, and this is typically the first time in a long time they've done anything really for themselves and are super nervous.
You will walk out and we know that if you showed your photos to anyone they would say the same thing about you.

Valentine's Day Boudoir Is A Life Enhancing Experience
Our Valentine's Day boudoir experiences are much more than just taking photos.
They are designed to enhance your life through self-empowerment and the celebration of your most intimate and meaningful relationship, you.
Valentine's Day boudoir focuses on loving yourself. Knowing what your SO loves about you and what you love about them.
It's about appreciating all that you make each other feel and letting them be reminded of it.
We've learned that what our clients think their partner will love most is something physical, but time and time again we've learned that their partner loves seeing them happy, confident, and finally knowing how sexy they really are.
Marilyn Monroe once said, "A smile is the best makeup any girl can wear."
We agree with this completely and while we will get so many bold and sexy looks we are also passionate about having genuine fun during our session.
During Your Valentine's Day Session
Once you come to the studio, we'll take you on a brief tour and take all your outfits upstairs.
After you get changed into something comfortable for hair and makeup, we will pour you a glass of champagne and turn on some music and let you start your session being pampered and having fun.
During your session, we'll provide you with professional guidance and suggestions and help you strike the perfect poses that express your highest self.
Everything will be created based on all our conversations, inspiration photos you may have sent, outfits and props you brought, and what you want your photos to say.
Our Valentine's Day photo experiences are completely safe. We only photograph what you're ready to explore.
One of our mottos is: Be bold, be beautiful, be you.
Whatever helps you embody the love you feel from and for you partner we support.
If that means wanting to do nude artistic looks, or something more everyday casual and intimate, boudoir isn't only about doing lingerie – so if you want to get creative go ahead.
We have so many ideas and can help guide you through coming up with some amazing looks that you will love..
Work with us to celebrate your love and accomplishments and create an album that you and your partner can enjoy for a lifetime
Call Us Today To Schedule A Session
Couple's boudoir for Valentine's Day with us is an intimate experience in which we focus on the love in your relationship. Reach out to us today to prepare a time to visit our studio.

What Should A Couple Wear For Valentine's Day Boudoir?
The main thing is to be yourself. Every couple has different tastes, we recommend asking yourself a few questions to get a better idea of what would be authentically you!
What do you like to wear on a special date night? What is your goal of a couples boudoir? What do you love about each other? What do you love about yourselves as a couple?
By answering these questions we can help guide you to different looks that will truly capture your dynamic.
Matching Styles
Your clothes don't need to match exactly, but you'll want to share stylistic components unless you are taking an experimental approach.
Some ideas include a sexy night out look – think tight dress, slacks with no shirt or jacket.
Casual vogue look – jeans and topless look for both.
Lingerie look – lingerie for our women and as we jokingly say to our men nice underwear! Think boxer briefs in a color that will compliment your ladies lingerie. We've found black, whites, and nude colors work best if you want to go with a more sensual look.
How Many Outfits Should I Bring?
For solo session we recommend doing 2-4 outfits and for couples session we recommend 2-3 looks together and 1 look for individual photos.
How Do I Prepare For A Valentine's Day Boudoir Photoshoot?
Practical Things To Do
1. Use moisturizers and cleansers. Moisturizers and cleansers give your skin a fresh, glowing look that will increase your self-confidence and enhance the overall quality of your session. Sammi is definitely the worst at keeping up with this kind of routine, but she was always bothered how the makeup sat on her face and our artist gave her a great tip about getting into this routine of just moisturizing once a day. Within a week she already noticed a difference.
2. Get plenty of beauty rest before your session. Proper sleep is one of the best ways to enhance your mood and appearance, so you'll want to make sure you get plenty of rest and relaxation before your session. Trust us you will need it we always joke boudoir sessions can be a bit of a workout.
3. (Optional) Get a manicure and pedicure. This is not necessary, but it's another way to enhance your experience. Any step you can take to improve your confidence will make your session better.
4. If you need it snacks, our boudoir session takes anywhere from 3-4 hours on average. While we provide water and champagne snacks are something that is so specific to each person. So if you are a person who gets hangry you are more than welcome to bring something with you. Otherwise don't worry at all usually we are having so much fun we don't notice how quickly the time passes at all.
On this note, you'll also want to drink plenty of water in the days before your session since this will improve the hydration of your skin.
5. If you were struggling to keep your looks to 2-4 outfits you can definitely bring in a few more just in case you want to change your mind last minute.
When picking outfits, follow your instincts. Pick colors and styles that you resonate with. We will be able to bring your unique look to life.
6. Wear loose clothing on your way to the session. When coming here, it's best to wear something loose so that you won't have bra straps marks, panty lines, crease lines/"whiskers" from your jeans, or sock marks.
We recommend bringing a robe as it is the easiest to switch in and out of and a pair of slippers to walk around in.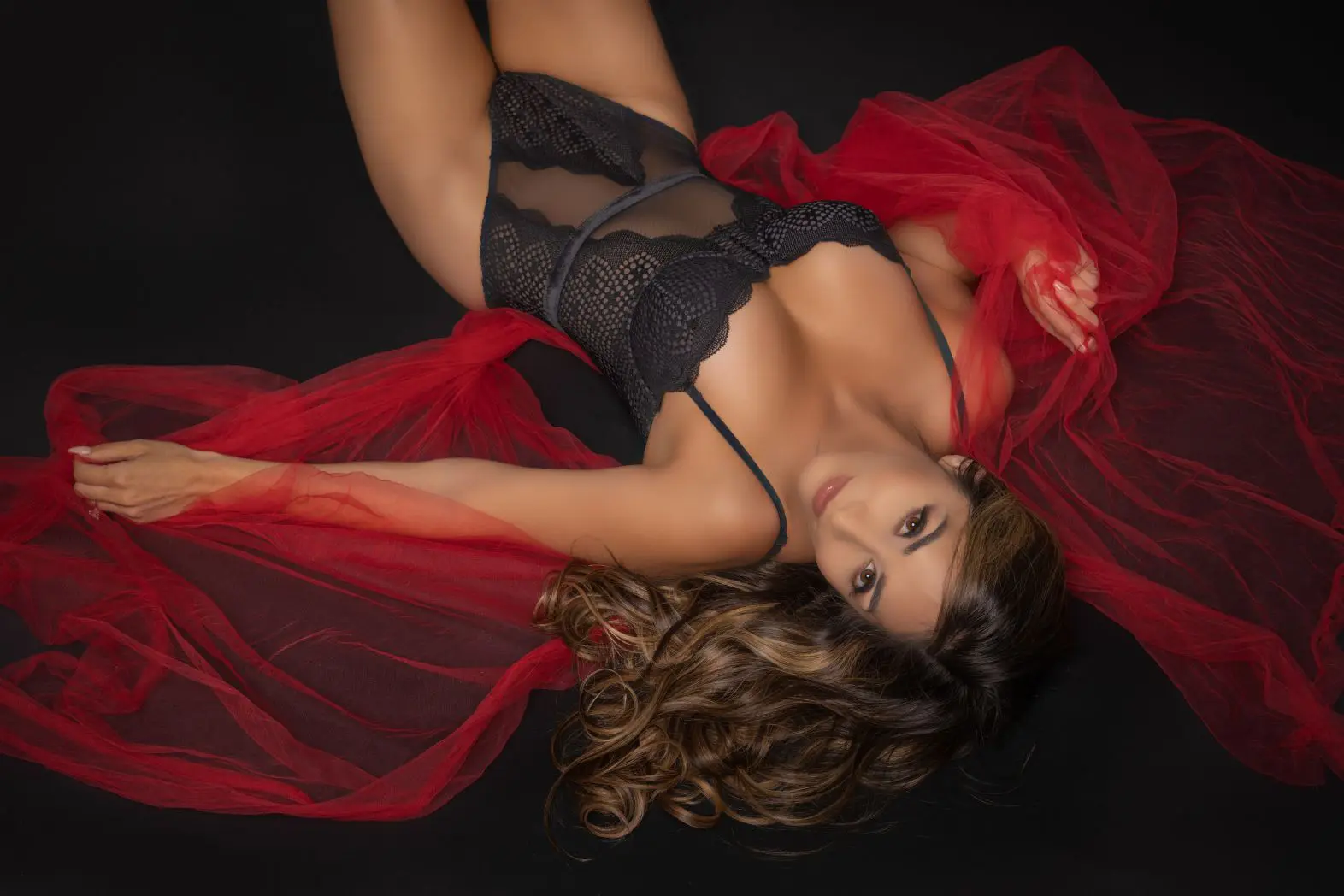 Things NOT To Do
We recommend avoiding tanning beds and spray tans a week or two before your session if this is something you have never done before since they are something that will last awhile it's always better to make a huge change to your looks prior to your session. If you do we advice going in nude to avoid tan lines.
Likewise, you'll want to avoid heavy sun exposure a week or two before your session to avoid tan lines and sunburns.
If you're going to be spending time in the sun, make sure to wear sunscreen.
Avoid waxing or shaving within 3 days of your session.
If you wax or shave you'll want to wax or shave well beforehand so that your skin won't be red or have red bumps if you are prone to this.
Any product that you can use to reduce razor burn is also helpful.
What Makes A Good Boudoir Photo?
A good boudoir photo is subjective at the end of the day, that is why we constantly emphasize that we focus on personalizing your session for you.
A good boudoir photo is one that you look at and feel connected to. It's like art, when you look at it it should invoke a reaction.
What reaction do you want to get?
Style
Everyone has a different style.
Are you more glam, bold, romantic? Are you a rockabilly, goth girl, goddess? Whatever your style is we will work with it.
Props
Having excellent props will also make for a great boudoir session.
We've got this part covered, although if you have  more unique ideas for props you'd like to use, please let us know! If we have them you can use them and if we don't you can bring them.
Our props include but are not limited to:
Plush chairs and couches (with velvet, silk coverings, and more)
Candles and candle holders
Vintage step ladder
Roses (and other flowers)
Luxury bed
Romantic backdrops
Dramatic Robes
Angel Wings
Masks
Pearls

How Long Should My Valentine's Day Boudoir Session Last?
Our boudoir sessions are fully customizable and tailored to your desires and interests.
With that said, your experience will most likely last about 3-4 hours.
We focus on having fun and creating looks for you – it's never about the amount of poses or strict timing, we have just found 3-4 hours is optimal to have the best experience.
During this time we will schedule your session so you can come in and relax while getting hair and makeup done, do 2-4 outfits and create a variety of bold looks you will absolutely love!
How Should I Gift My Valentine's Day Boudoir Photos To My Partner?
We are beyond fans of physical product. There is something special about having a tangible element to boudoir photos.
Everything in our studio is customized and handmade in Italy.
Are you into a more modern style in your home and like sleek lines and a luxury feel? We recommend our Young Album
Do you like a more traditional look and want to keep it simple and discreet? That will be perfect for our GoBook
We also have the option of a beautifully handmade leather bound journal that everyone absolutely loves.
If you want something that is truly life changing and want to be reminded of how beautiful you are and your relationship is everyday we recommend wallart, all of our wallart is customized for your home, all we ask is to know where you would love to put it!
These are just some of the things we absolutely love and what our clients purchase the most, but we offer everything from digitals, small prints, albums, portrait boxes, wallart, and more!
Valentine's Day Boudoir Wall Art
Speaking of wall art: Your Valentine's Day session could be the perfect opportunity to create an outstanding piece.
We create gorgeous artwork to adorn your home and give you something precious to have as a token of your love.
We provide different kinds of wall art, including canvas prints, mounted wall art, and photo spreads.
Check out our signature wall art examples.

Should I Post My Boudoir Photos On Facebook?
This is definitely an individual decision.
We love it when our clients post photos from their sessions for others to see, but we understand that not everyone is in the position to do so.
Many of our clients get Valentine's Day boudoir photos to share privately with their SO, but after their session and when they see their photos they absolutely fall in love with them and want to share them with others.
If this is you we so support you and would also love to share your photos on our own social media pages!
With that said we will NEVER post pictures from your boudoir session without getting your explicit permission first. This is something we will discuss with you during your pre-session phone call and also once you have seen your photos, once you have given permission we just ask you to sign a release form, without it we will not post any photos.
Do You Have Boudoir Portfolio Examples?
Yes, we have 10 years worth of experience and have our portfolio on our website and our Instagram. All photos are examples of real clients.
If you have fallen in love schedule a call with us today and let us know if you would like to also become a part of our private facebook group. This is a the perfect place to get to know other clients who have gone through a photoshoot with us or plan to, where you can find inspiration and empowerment with other women.