The ultimate goal to a perfect women empowerment photoshoot is seeing the freedom our strong women feel in being completely and totally themselves.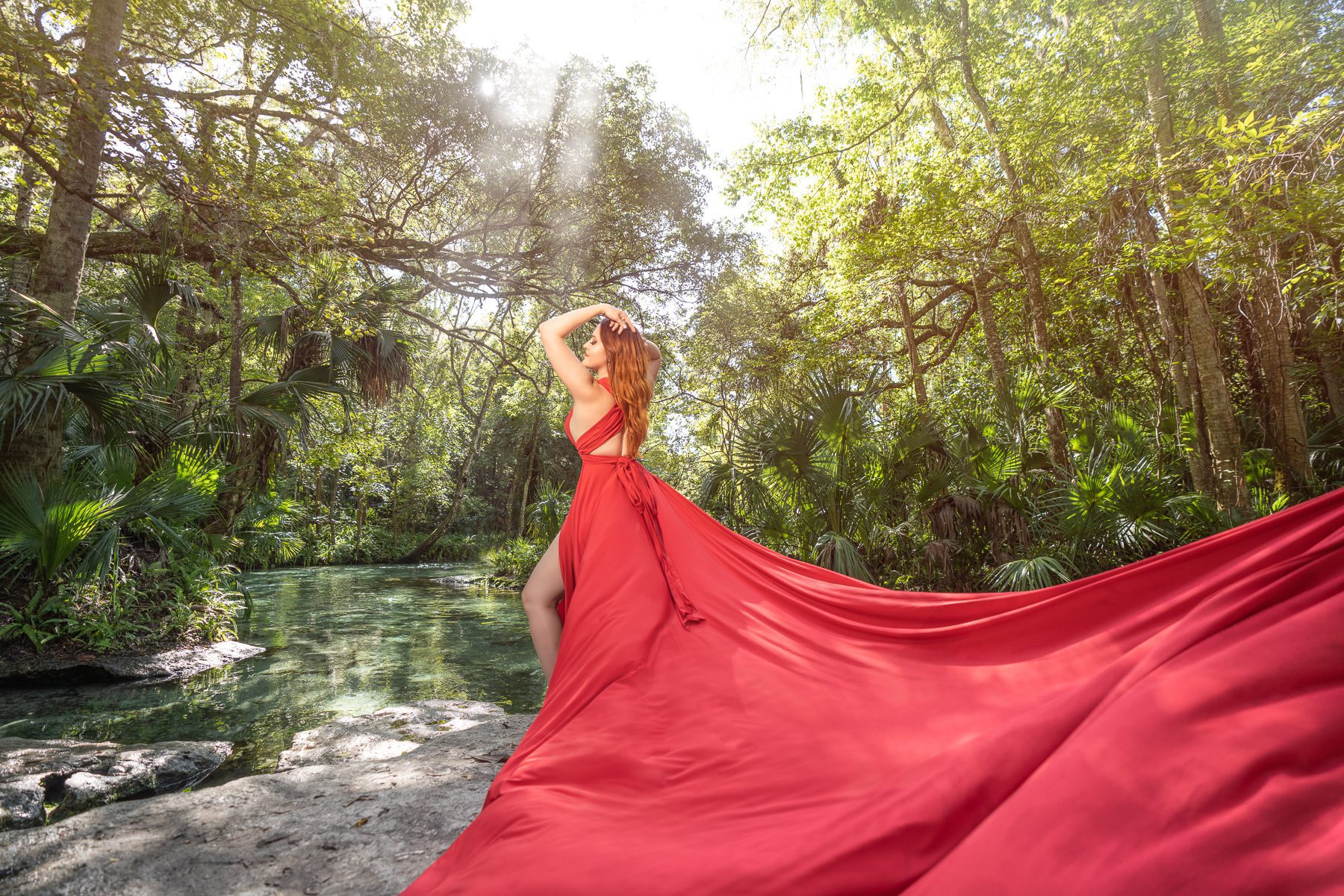 This was no different for our stunning client Breanna.
Being the joyful, creative, and talented person she is we knew we wanted to help create something absolutely spectacular and breathtaking with her. A magical photoshoot that would stand out from the day to day and show the world the beauty of her soul.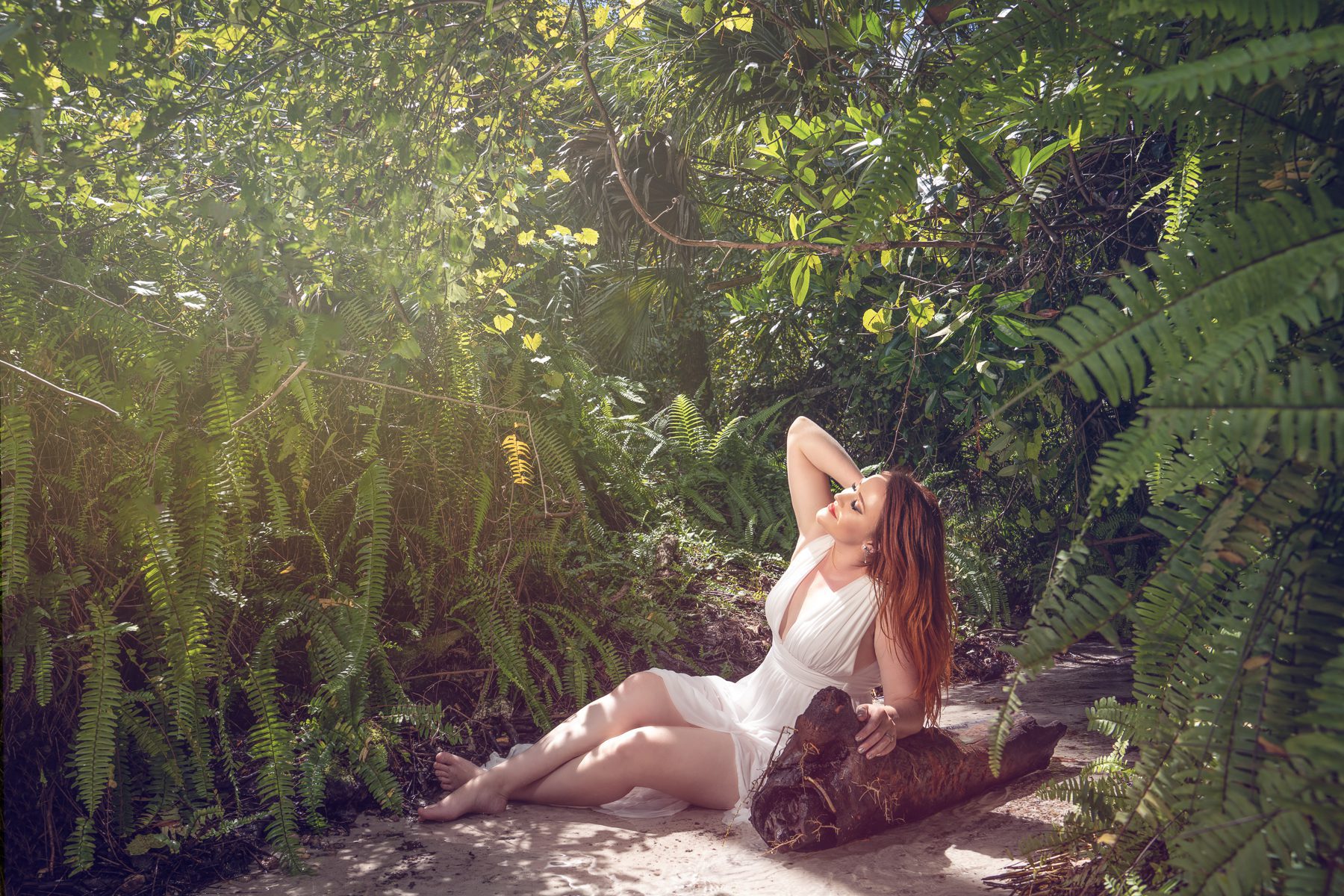 A woman empowerment photoshoot is the best way to describe her experience, but ultimately it was photoshoot filled with adventure, laughter, and a few surprises.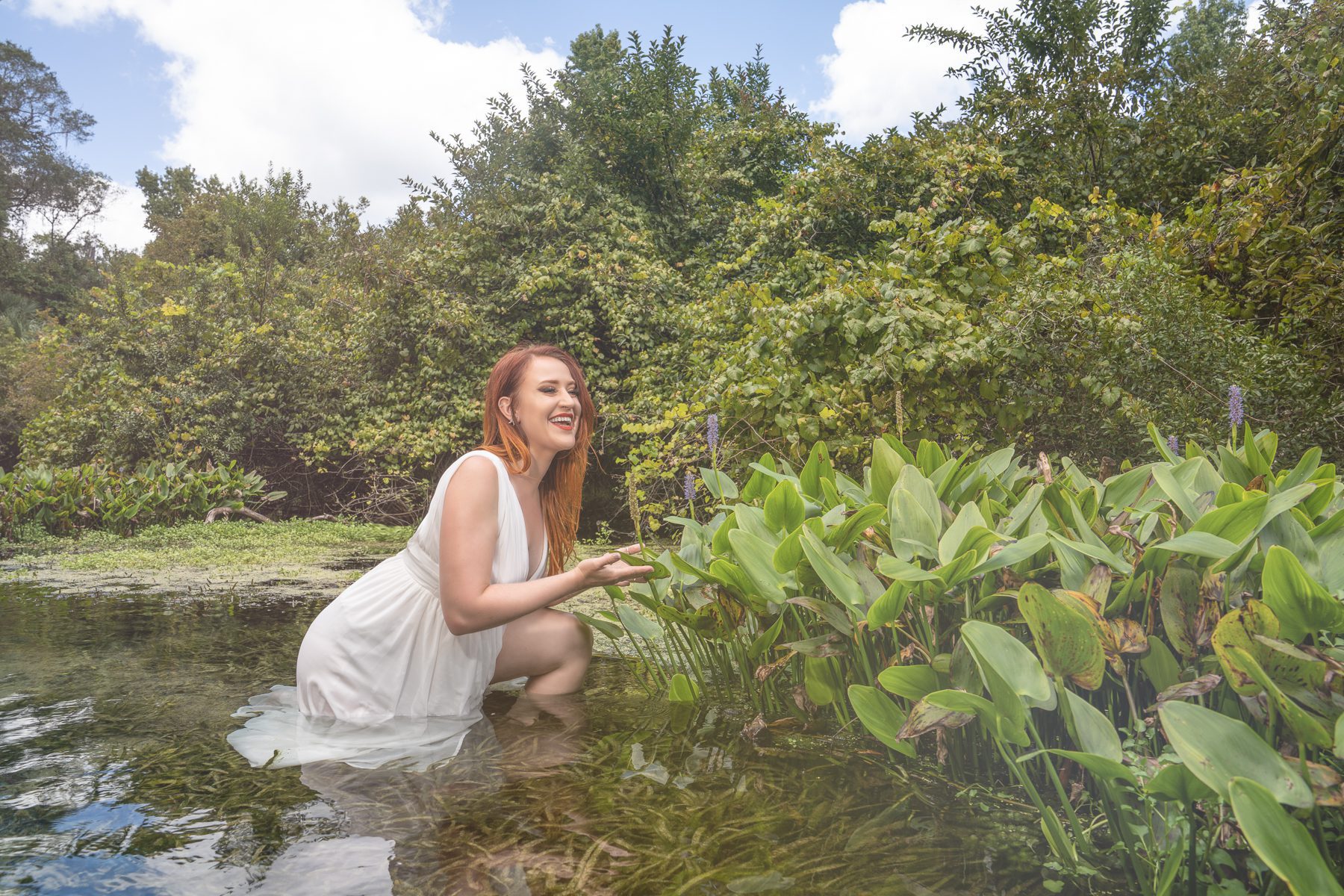 While we arrived early, our maps kept taking us down dead end roads one after another, and usually we know how frustrating a situation like that can be, but it only made the trip more fun! Being able to laugh in the bad moments and trust that everything will work out is a life lesson for the bigger picture. Once we finally arrived it was amazing to see how busy the park was. It had been our first time at Rock Springs Florida (also known as Kelly Park) and we had no clue what to expect. 
This was one of those moments where the true strength and confidence comes in of not only our team but our clients. We all marched into the springs, with our camera gear and hair and makeup done with a long flowy dress ready to start our photoshoot. We can definitely say we turned a few heads that day, and if you are one to be a bit shy about these things, trust us when we say you would of left your session feeling over the moon. At a certain point we had to eventually ignore all the amazing compliments and kind words thrown Breanna's way, otherwise we would've had to be there for hours as each person wanted to tell her how beautiful she looked!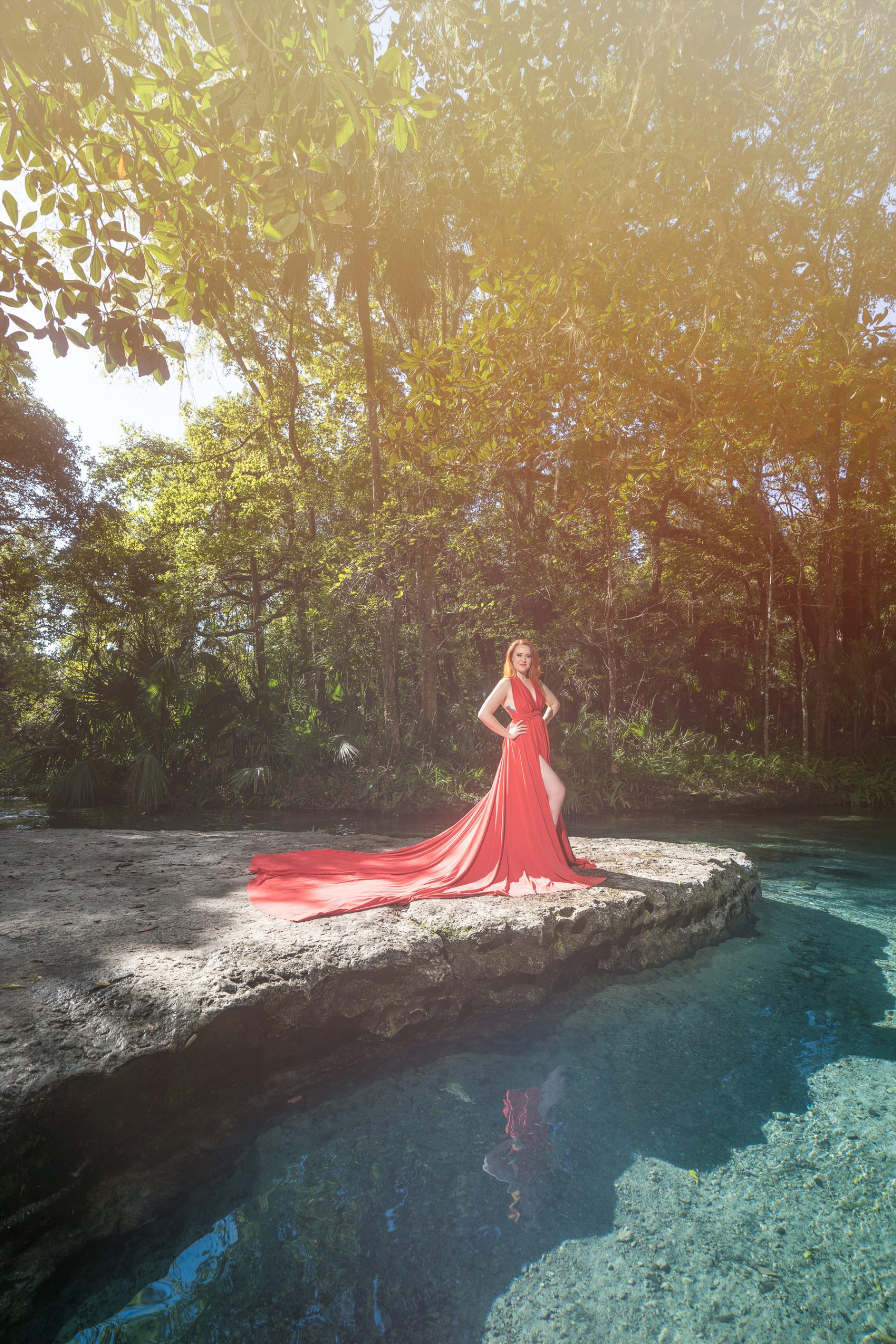 For Breanna's women empowerment session we focused on two different looks. Her first outfit was a long red flowy dress that had a beautiful contract to the greenery surrounding her. Her second outfit was a white summers dresses that was perfect for being in the water.
We loved Breanna's adventurous and creative spirit. As she was absolutely down to walk up stream to get beautiful once in a life time shots. Moments like these are not always guaranteed but made between ourselves and our clients. We ultimately want to create a beautiful unique session for each of our strong women and when our clients are down to have fun and creativity you get beautiful stunning strong woman portraits that will stand out and remind you of how amazing you truly are.
What is a Women Empowerment photoshoot?
For us we call Women Empowerment Photoshoots, Strong Woman sessions.
And they are more than just a photoshoot. 
This will be a weird request, but we want you to take a moment to think about it yourself, but we want you to take out the word photoshoot. 
Ask yourself what is a strong woman?
When you define what a strong woman is to you, you are already on the first steps of this journey of what we call a Strong Woman Photoshoot.
We have a feeling if you are reading this now you are in fact a strong woman. 
Did that throw you off? If so that is absolutely okay, because the reality is being a strong woman isn't always as easy as being what we think it is.
You are a strong woman, you might not know it yet, and you might be listing all the reasons that you could prove us wrong in that statement, but we are here to tell you you are.
You are a strong woman even though you are going through hard times. You may cry, you may scream, you may even pray to God for someone else to take care of you for 5 seconds but that doesn't make you weak. In fact what we've learned about strong woman is they are usually the ones everyone has come to rely on.
We are here to say let us take care of you. You deserve a day to be shown how wonderful you truly are and be seen for all that you are.
Why do a Strong Woman photoshoot?
Remember that part about us taking care of you? Well we mean it, we have learned that sometimes you need to get out of your day to day routine and have some fun! 
Let's be honest, when was the last time you let yourself truly be you?
Where you've been able to put down all the expectations of what you should be; the perfect mom, the perfect daughter, the perfect whatever you want to call it. When is the last time you were free to be yourself and remember how awesome and amazing you truly are?
If you are saying "it's been awhile" or "I can't even remember" then maybe you should skip past everything we are about to say and just call us now, cause you really need to have fun and find yourself again.
If you want to keep reading though, then we are here to take you on an informative journey.
As female based studio filled will strong women, we've talked it over many times what it means and why this is important.
Ultimately, everyday as strong woman we rise to the occasion to lift others up and want to be our best. We are passionate, we are adventurous, we are wild. We can be loud, we can be bold, we tend to be "too much" and we've heard it too many times, we have to lower ourselves down so others will feel good enough.
But you don't have to. You really don't have to, you can be everything you are and shine as brightly as possible and still be loved. Those who love you will rise up and be proud of you. They will want nothing more than for you to see how truly amazing you are and how loved you are for yourself.
Can a strong woman session really be this empowering?
Yes. Yes, and a thousand times more yeses.
Everyday when you look at yourself what do you see? What words do you tell yourself? How often do you get to step out and see the best version of yourself?
A strong woman session is about bringing life back into your day to day. It's about creating a reminder of all that you love about yourself. Showing you who you are and how others view you. 
We once had a client years ago that we still think about so often, her husband said he loved the wild and free woman she was when they first married, that she had this light and life about her, through the years though he hasn't seen it in awhile. Between the hard times and the day to day stress and responsibilities part of her was lost. All he wanted to do was see her again and have her be that happy again. 
From the first call, to the photoshoot, and to the final reveal her photos he said he saw that woman again. The light in her eyes was back, the joy, the energy. But more than that a few months after her session she called us up to let us know that because of her photoshoot she applied for a job that she never would have felt confident enough doing and they hired her and that the job paid three times higher than her previous job. That her entire families lives had changed because of her photoshoot.
When your cup is empty you cannot pour into another cup. Let us help you refill yours.
Meet the women behind our Strong Woman Sessions
We typically try not to make a fuss about who we are, because our goal is to focus on you, but we also know how important it is to have the right people for something so special. 
Our studio is an all female studio, with it primarily being two people; Ella and Sammi.
We are strong women who are passionate, a little stubborn, and a bit wild at times.
While Ella loves to create elegant and dramatic photos, she is nothing like our clients anticipate when they see her work, she is much more down to earth. She is originally from South Africa and grew her business in Las Vegas before moving to Florida. A lover of nature and being outdoors she has found herself living on a farm with her 11 mini donkeys and 2 dogs. She is a water baby at heart and will take any chance she gets at being outside in the water. She is talented with knowing how to light and pose for any client and in any environment. My favorite part that I hear from our clients is how fun and relaxed a session feels with her.
I am Sammi, the romantic heart of the two. I find that life should be lived to its fullest. That passion and love are things to be found even if it's just for oneself. I've worked with Ella for 10 years now and truly never loved anything more, outside of work not only are we best friends but our dogs as well. Ella says everyone has a special gift, hers is being able to see people for who they are and she says mine is being able to understand people in a deep way.
Between the two of us we've created Strong Woman sessions to show woman like us that it is more than okay to be strong, bold, loud, wild, passionate, and loved. You deserve to see your worth.
How do you prep for a Strong Woman Photoshoot?
Having us understand your needs and desires is going to be the ultimate part of creating an amazing strong woman photoshoot. 
Think about all that we've asked so far.
How do you define being a strong woman? When is the last time you truly let yourself be you? What does it look like when you see the best version of yourself, and we aren't talking about looks, but what does it feel like?
Don't worry if you don't have the exact answer. If you give us a call we will guide you through finding out all the things that important to you and you want to see and celebrate.
Once we get a good idea of who you are and what makes you feel the best we will start planning your session.
Where, when, and what should I do to create the best women empowerment session?
The where, when, and what are all icing on the cake when you have finalized your call with our team. By understanding your needs we can help guide you through the best places and options for you.
We do offer in studio and out of studio sessions year round to give all our clients all a chance to create a life changing experience.
For our in studio women empowerment sessions we have an accessible amount of studio props from furniture pieces, to the outfits, we have dramatic robes, angel wings, and so many dresses. We also have many different backdrops to create diverse looks during your session.
Out of studio Ella is a skilled off camera flash photographer which allows us to create stunning looks in any location. Her style is known for sunsets, but we also make available sunrises for specific locations.
Since there are so many variables our best recommendation is to schedule a consultation, we take bookings a year out and help finalize all the details. Not only for place and time, but what outfits will look the best, we also offer the ability to use or rent certain dresses available in our studio. Most of our iconic photos are used with our studio dresses so if there is one you love in particular please don't hesitate to ask about it!