Are you just starting out as a model and need a model portfolio that says WOW?
We understand how it is when you want to jumpstart your career in the modeling industry and feel confident in your modeling portfolio, and yet you don't know how to get started.
There are so many amazing articles online that can say it better than us and are more in-depth when it comes to marketing yourself as a model, but we aren't here to talk about marketing.
What we want to talk about specifically is BRANDING yourself as a model and how to achieve the best results with your photos.
What is a model's portfolio? 
The best pictures from your collection go into your modeling portfolio.
This portfolio is usually contained within a folder that is created after the first photo shoot and then is supplemented with the best photos after each photo shoot.
Modeling Portfolio Requirements
The main requirements for a modeling portfolio are versatility and professionalism.
A standard modeling portfolio should contain "test photos" and several different looks with a change of makeup, clothes, and hairstyle.
Likewise, a model should show that they can be different, can reincarnate into different looks, reveal their emotions, work well in front of the camera, feel their body, etc.
Model Portfolio Summarized
In essence, a model portfolio is a set of professional photographs that seek to maximize the model's strengths and hide his or her weaknesses.
A modeling portfolio is made according to specific rules and consists of mandatory and optional elements.
A full-fledged modeling book should include snapshots, modeling tests, fashion and beauty photos, publications, and footage from fashion shows and advertising shoots.
With all this said, let's look at the process of creating a model portfolio.
Think about what kind of model you want to be
There are many different types of modeling, and sure you can narrow them down into niches etc., but what we always ask our clients is, what do you want to convey?
Do you like to do dark, moody, abstract looks, or do you want to do high fashion?
Maybe your goal is to be more commercial and have more happy and casual shoots.
Whatever you want your brand to be, you'll want to stylize your photoshoot accordingly to attract what you want.
With Melissa, we absolutely loved the energy she brought to her session and how important it was to her to have life, fun, and energy in her photos.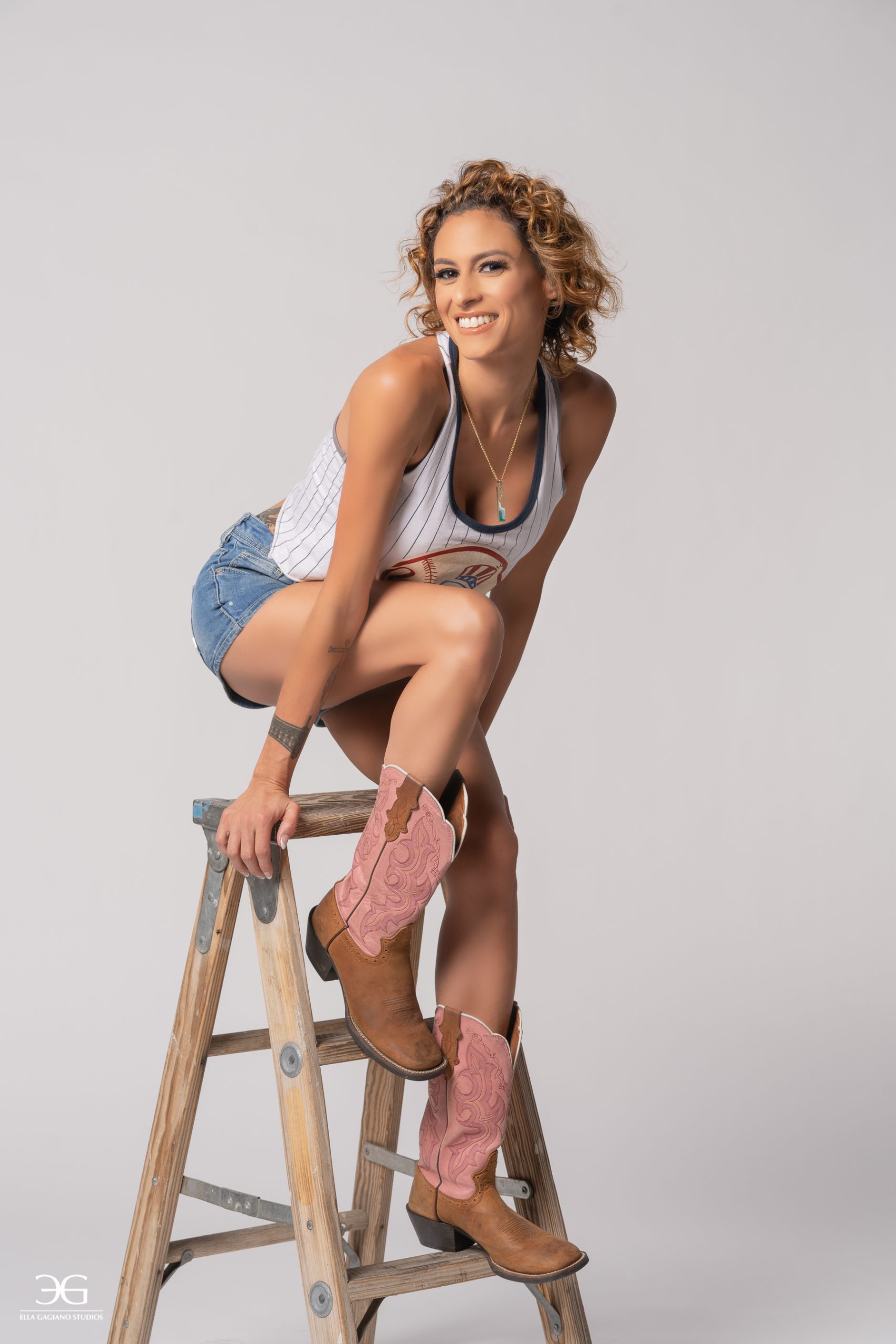 You can feel her energy from these photos, and you can tell how much of a joy it is to work with her. Her vibe in these photos is upbeat and positive, with undertones of rustic America.
What do you want to say with your brand?
Now that you know your brand, what outfits do you feel represent it?
For your modeling portfolio, you need the basics:
A headshot, full length shot, swimsuit shot or lingerie shot (if you want to do these kinds of photos, of course), as well as editorial and creative shots.
Every established model will have these kinds of photos in their portfolio, so it's important to do your photos well enough so that you stand out from the crowd.
Enhancing Your Model Portfolio With Outfits
Think back to what you want to say with your images and then figure out what outfits best do that.
With Melissa, she brought multiple outfits for her photo shoot since she had so many ideas and was so excited to create diverse looks and build her portfolio right away, and she absolutely needed it for everything she was doing.
If you are just starting out, we think 4 outfits is the perfect amount.
First Outfit
This should be something casual, yet tight-fitting so that it doesn't distract from your physique. A tight, casual outfit is perfect for full length photos and headshots.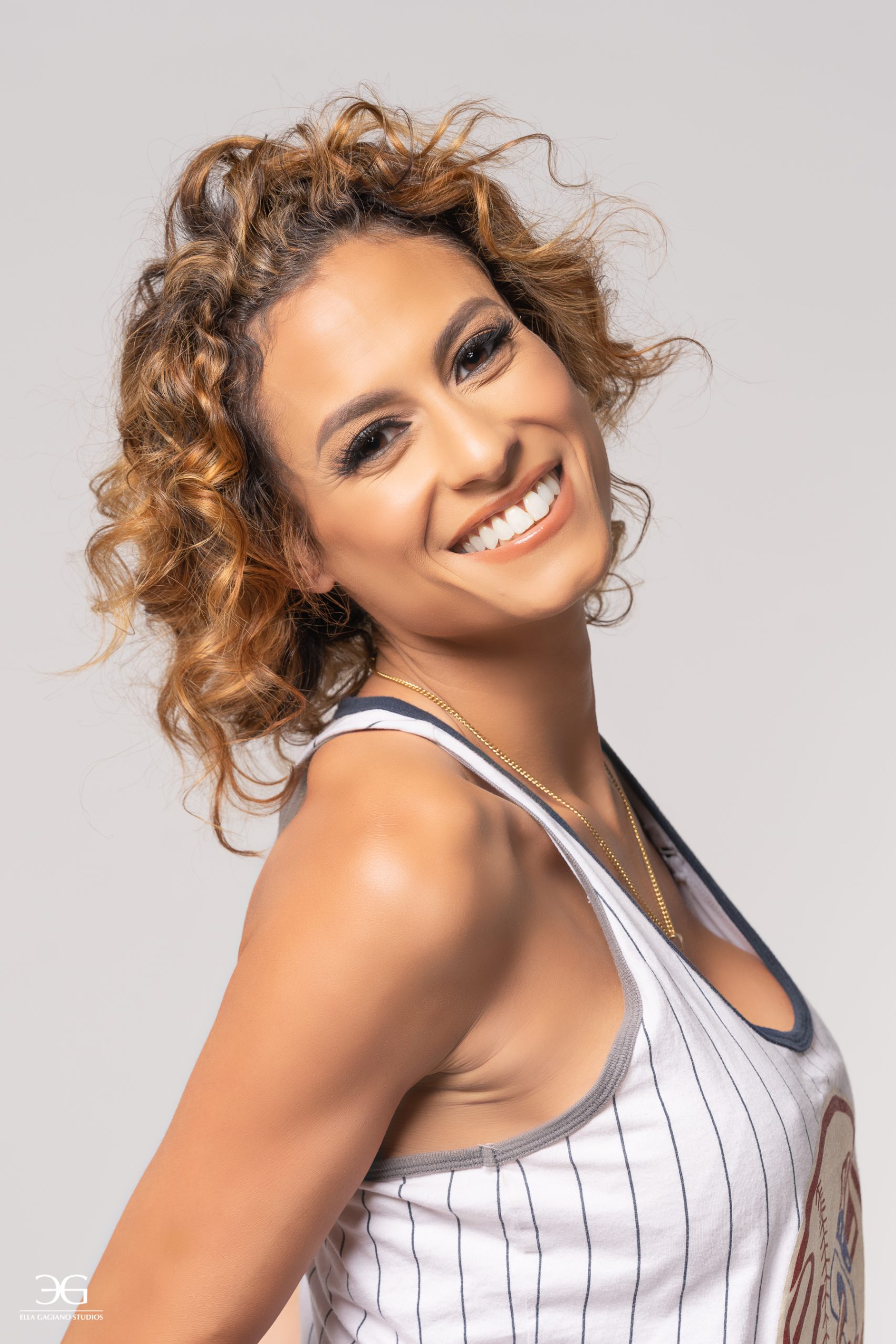 Second Outfit
Your second outfit can be a swimsuit or lingerie, and if you are not going for that kind of look, then think about something you are excited for and want to shoot. Maybe it is workout clothes or something more niche.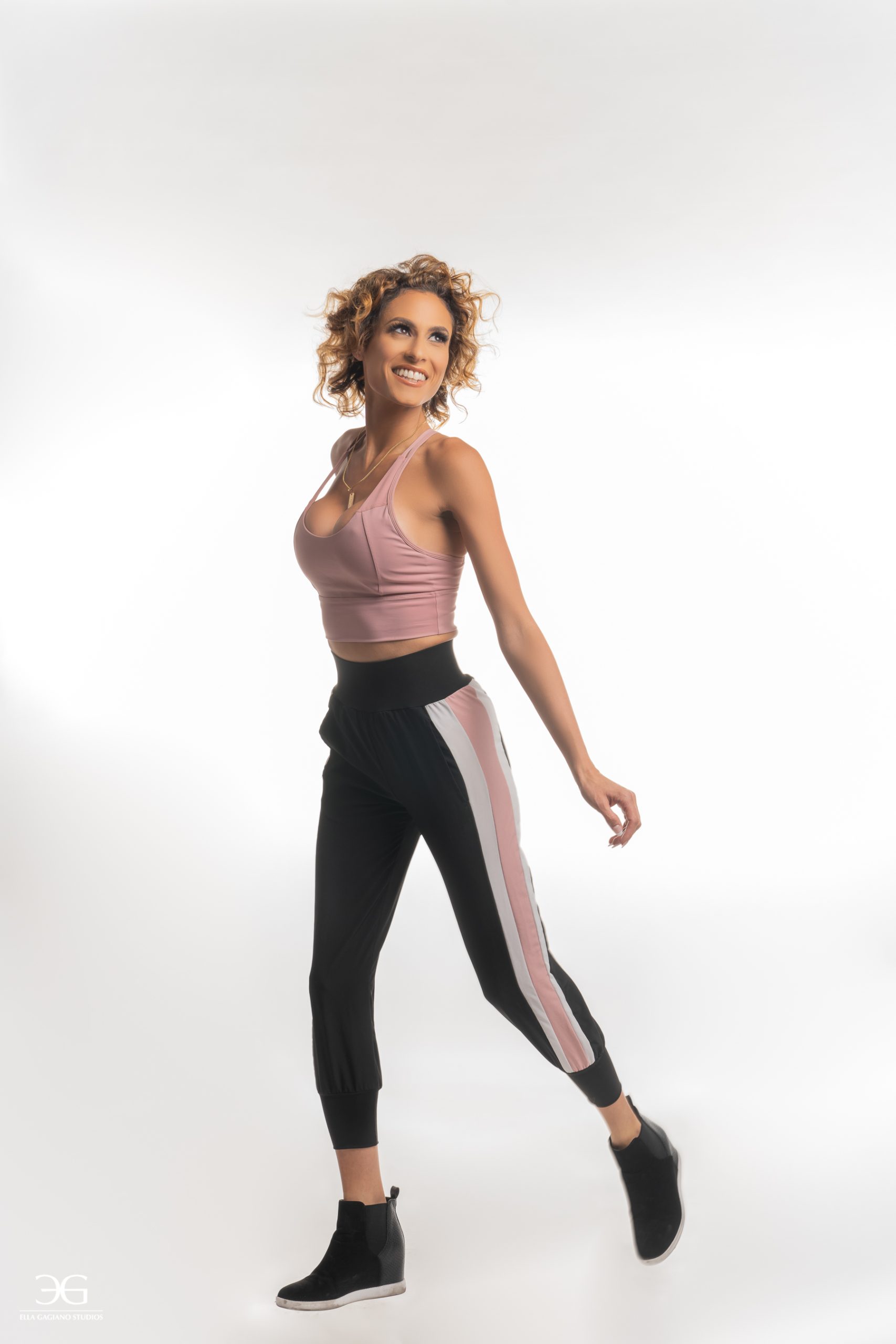 Third Outfit
We recommend that your third outfit be one that you can move in easily and express yourself.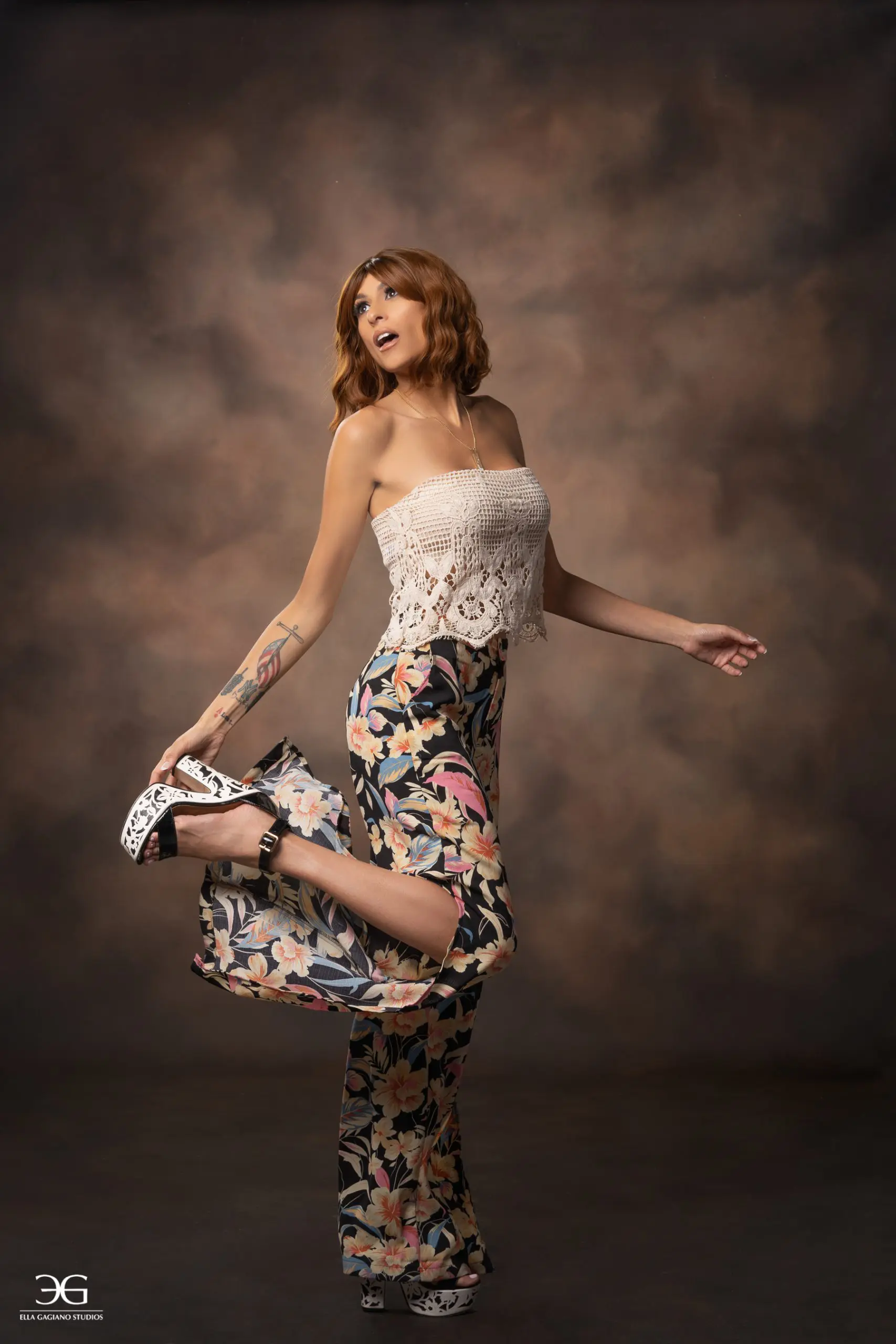 Fourth Outfit
This is where things get fun.
Your fourth outfit should be a bold, unique statement piece that really strikes to the core of what you want to do, what you love, and what you imagine when you dream about the perfect gig.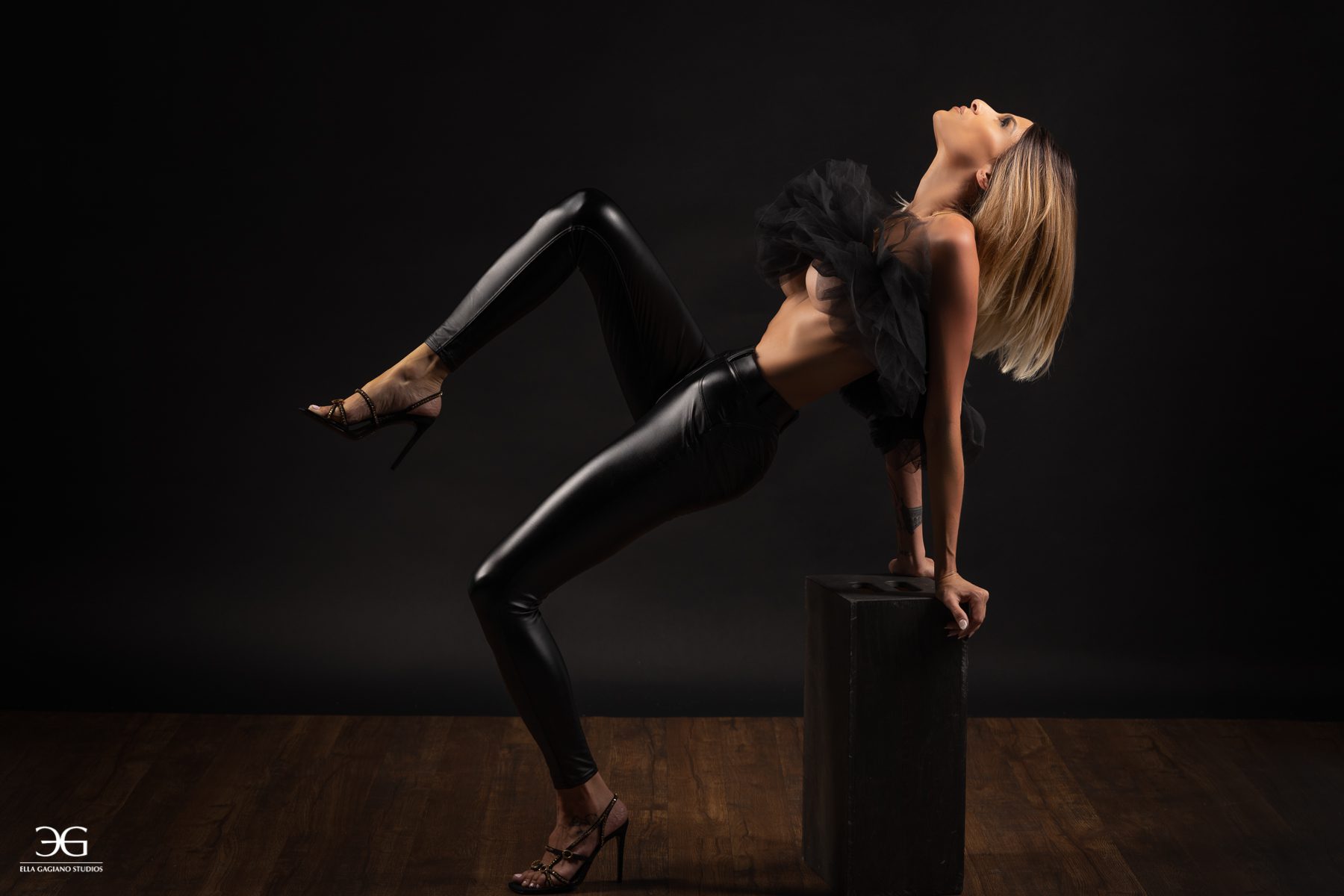 Further Reading: Steps to make a great model portfolio in a photo studio
STEP 1
First, to apply to any agency, it is necessary to take pictures and pass some modeling tests.
Snapshots are taken on a plain background with soft light while your hair is kept in a simple style—usually in a ponytail.
When taking swimwear snapshots, the model should not have makeup on since these shots are designed to show their natural appearance.
Swimwear shots come with virtually no retouching.
Close-up photos cover the following:
Full-face (with and without a smile), profile (left and right).
Lump photos cover the following:
Full-face, profile (left and right), back view.
When To Take Snapshots
In principle, you can take snapshots at home in daylight against a plain-colored wall. But, of course, it's better to take snapshots in a photo studio.
Model Tests
Model tests are photos taken with soft and/or hard (contrast) light, often in black and white.
They reveal the type of model the model is and their ability to pose, play, and reincarnate. In short, model tests reveal the model's professional abilities.
Usually, model tests are shot in a minimalist style since there shouldn't be anything unnecessary distracting from the model.
The model's clothes should be tight and consist of leggings, T-shirts, shorts, swimsuits, etc.
Their makeup should be light and natural.
Good modeling tests also consist of at least three different looks.
STEP 2
Now you have to add fashion and beauty photos made in a photo studio to your portfolio (especially if you are going to work as a model).
Fashion photos will show the client how to advertise clothes, and beautiful photos will show cosmetics, jewelry, etc.
A photo with an accent on the most beautiful part of the body (lips, arms, legs, hands) is not redundant.
Here are a couple IMPORTANT nuances when creating a modeling portfolio in a photo studio:
It takes more than one shoot to create a modeling portfolio, which is built up throughout your career. Typically, unless you're lucky, you can make only a few excellent shots in one shoot, which will be added to your portfolio.
You shouldn't put weak shots in your model portfolio.
Your model portfolio should be updated periodically to keep it current and relevant to your current appearance.
For example, if you've changed your image drastically (for example, changing your hair color, getting a haircut, getting a cosmetic procedure, or changing your weight), this is a good reason to update your model portfolio.
To create a complete model portfolio, you must work with several photographers. Each one will have their own vision and style, and each one will express their image and personality in a unique way. If just one photographer photographs a model, she risks being portrayed one-sidedly.
You should be careful when choosing a photographer: do not do photo shoots with everyone, especially if they specialize in different shoots (weddings, reportage). Also, you should avoid beginners because you will not get good results with them. To add to your modeling portfolio, you need a smart photographer with the appropriate specialization (fashion, beauty, model tests, advertising) and a good photo studio.
TWO USEFUL EXERCISES FOR POSING
A photo model is NOT just a girl with good looks, clear skin, and a friendly smile who can pose in a photo studio.
Unfortunately or fortunately (depending on how you look at it), modeling is a little more complicated in reality.
To become an excellent model, you need to be able to do much more.
See below for more information about two exercises that will help you.
Exercise One
Stand by yourself in front of a mirror (anywhere from 30-50 cm from it).
You should position yourself so that the light that falls on one side of your face is slightly darker than the other.
Cold Look
Now look in the mirror and emulate a cold and arrogant expression. VERY cold and even haughty.
Looking at your image in the mirror should send shivers down your spine!
Did you try it?
Great, now close your eyes, relax your face (you can massage it a little with your hands), take a few breaths, and open your eyes.
Sad Look
Now look at yourself in the mirror again and emulate someone who is about to cry. You should try and generate emotions with your expression.
In fact, your expression should be sad enough to evoke pity in anyone who sees you!
Have you tried it?
If so, don't take too long.
It's all right if at the beginning you can't capture the expressions that you would like to. You'll get there in time.
Happy Look
Now try again and generate another emotion, this time a positive one.
Try the exercise at least 2-3 times a week (or better yet, every day for 5-10 minutes).
Performing The Exercise With Others
After you get some practice this way, you'll want to make the exercise more challenging for yourself and practice generating emotions with other people in the room.
Ask someone you know to stand next to you and look (just silently and attentively to begin with!) at your facial expressions.
Next, arrange for someone who doesn't know you that well to watch you closely and critique your performance.
Performing The Exercise Without A Mirror
Once you've had practice generating expressions in front of others with the help of a mirror, the next step is to do the same exercise without a mirror.
You'll first want to do this in front of an acquaintance, then in front of a stranger, then in front of a group of strangers, etc.
Why Is This Exercise Necessary?
You may be wondering, why is this exercise necessary?
Well, everyone can "smile sweetly into the camera."
But not everyone can powerfully convey emotions on command. Certainly, everyone can convey emotions when they feel emotional, but it takes a professional model or actor to convey any emotion on command.
An experienced model can easily create fifty different looks in a 10-minute shoot.
Trying This Exercise For Your Own Benefit
By the way, even if you don't have any plans on starting a modeling career, you can still benefit from this exercise.
Learning how to command your expressions in any given situation can benefit you in your personal life and work life.
There will be times when you need to be careful about the emotions you convey, especially if you are feeling emotional or perhaps not emotional enough in a personal or business setting.
This isn't a call to be fake with your emotions, but sometimes a small change in your expression goes a long way in helping someone feel like you're listening to them.
Exercise Two
As a model, you should not just utilize only a few poses. Instead, you should master several different poses.
Of course, the poses you take are largely determined by the photographer. A skilled photographer will guide you on what's appropriate.
Still, a good model knows how to quickly strike a dozen or two effective poses without the orchestration of a skilled photographer.
With this in mind, this second exercise is aimed at helping you develop the necessary skill to pose quickly and effectively.
To perform the exercise correctly, you will need a large mirror.
Positioning Yourself With Your Mirror
Bear in mind, you shouldn't stand any closer than 8 feet from your mirror. You'll want to be able to see your full reflection with some space to spare.
Regarding the lighting in your room:
You'll want the light in your room to cover half your body, so that half of it is shadowed.
You'll then want to take one of your standard poses (at the end of the text, there are some examples of standard standing positions), freeze, and look meticulously in the mirror.
Only, when you look, you should NOT criticize your body, i.e., nitpick about your weight or your hairstyle.
Instead, you should pay attention to how well you pose!
How straight is your posture? Are you conveying the proper mood? Is this a common pose?
These are questions you'll want to ask.
Once you find an excellent pose (preferably one this is commonly used so that you can reference it), make a mental note of it and remember it well so that you can refer back to it whenever you need.
Replicate The Pose
Once you've made a strong mental note of your pose, you'll want to return momentarily to a normal standing position and then quickly assume the pose again.
Maintain it for a couple of seconds, then relax again, and then once more, take the pose.
Expand Your Number of Poses
Working in this way, you can memorize many beneficial poses. The more you practice, the more poses you'll master.
Transitioning From Pose To Pose
Once you've got the hang of multiple poses, you'll next want to transition between poses. The smoother you make your transitions, the better.
You'll want to keep practicing these transitions until they become automatic, and then you can start trying to "create" new poses that haven't been used before.
Add Nuance To Your Poses
To add nuance to your poses, go from pose to pose without trying to perfectly replicate your learned postures. Instead, experiment with slight alterations to see if you can benefit from changing things up ever-so-slightly.
Second, try adding different emotions to each pose along with facial expressions that match various moods.
Remember that emotions are reflected in the body, so for instance, if you're supposed to illustrate someone who has been suddenly and powerfully "taken aback" by something, maybe lean back involuntarily.
Whatever emotion you are trying to convey, do your best to illustrate it with your physicality.
Practice Your Poses Periodically
Practice your poses periodically and bit by bit you can think up and learn a whole series of poses with unique elements, which you can easily use when necessary.
Having several poses in your repertoire will increase your confidence and help reduce the modeling jitters that you sometimes get, especially if you're a beginner.
Portraits
Portraits are photos that clearly show the model's face. They are usually taken in 20×25 format and show the model's face and upper body taken from a close angle.
It is essential that the headshot, as the portrait is also called, is focused on the face.
Portraits are also usually shot with minimal makeup, so facial features and skin color are visible. Every model should have such a shot in its portfolio.
Beauty Shots
On the other hand, beauty shots are artistic photos that, just like portraits, depict the model's head and upper body. But unlike portraits, the model may wear makeup and be shot in a dramatic pose.
If you want to work as a model in print publications, this kind of photography is a must for you.
Fashion shoots are completely true to their name; the pictures depict models in different ways, and the main focus here is on the clothes.
Even the makeup of the model is chosen to accentuate the outfit. This is the kind of photo that fashion models need.
Swimsuit Photos
A swimsuit photo shoot is obvious designed to show the body of a model. This is another type of photo that you may need for advertising in print publications.
Another photo that you will probably need to start a modeling career in print publications is an editorial shot.
Make sure your costumes are ready at least five days before your editorial shoot.
Tips
It's a good idea to keep extra copies of your photos somewhere safe. That way, you won't panic if you lose your model portfolio.
Remember: A model portfolio is not a photo album! If a picture doesn't sell you, don't include it just because it represents a special value to you.
Ideally, your portfolio should not contain more than year-old pictures. You will need to reshoot your portfolio on occasion.
If you're only making a portfolio to get accepted by a particular agency, think twice. Most agencies will ask you to do the shoot after you sign the contract, so you may have to pay twice.
Don't use new, untested facial products before a shoot, as this can lead to some pretty lamentable results.
When getting dressed, ensure everything is worn correctly – no kinked straps and misplaced buttons.
It's wrong to assume that the photographer with the highest price is the best. Yet it's also true that you get what you pay for. Find the middle ground!
Practicing your modeling skills may seem like a strange activity at first. But it is necessary! What looks good in your imagination may not work in real life, and you need to figure things out before you go on a shoot!
Try not to tan before your shoot. Tan marks can be a problem.
Keep in mind that many photographers and makeup artists have rules about canceling arrangements. Usually, if you cancel the shoot less than 48 hours before the agreed time, you have to pay at least part of the amount, if not the full price.
Your model album should be organized and visually appealing.
Loose pictures and slides, no contact list, and torn or crumpled photos are signs of a poorly presented model portfolio.
Just as an accountant cannot offer her resume on crumpled paper, a respectful model should not have a sloppy portfolio.
Your model portfolio represents you! Make it sturdy. It will make a positive impression.
To get a quality model portfolio, we recommend adhering to the following tips:
Study other people's experiences. Look at samples of model portfolios on the Internet. Examples will help you understand what your book should ideally look like.
Find a professional photographer with experience and a photo studio. A good professional knows how to show the model's strengths. An experienced photographer will help you eliminate shyness in front of the camera in a photo studio and suggest good poses.
Build your model portfolio through time. Remember: a model portfolio is not made in one shoot. You'll only get a few good shots worthy of a portfolio from a single shoot.
Quality comes first. You will get a lot of photos as a result of several shoots. But only the best of them should be included in your portfolio, taken in a good light in a professional photo studio. Weak photos, added for quantity, can play against you.
Black and white photos are always on trend. So don't forget to add a few of these shots to your modeling portfolio.
Don't get carried away with photoshop. Photoshopped photos don't show a model's potential but only the retouching skills of a professional.
Update the portfolio regularly so it's always up to date with your latest looks. This is especially true for those whose appearance changes drastically, depending on their style.
Work with a stylist. An experienced professional will tell you how best to style your hair and what to wear.
Put what you think is the best shot at the end of the portfolio. In this manner, you will make a good impression
Where do you go next?
If you're wondering what to do next, this is where we come in. Call us today for a free consultation!
You always want to hire an experienced photographer who knows how to capture not only the photos you need but the ones you want.
We will help guide you through poses and capture your best angles to create something that will leave you feeling inspired, confident, and wanting to go out a conquer the world!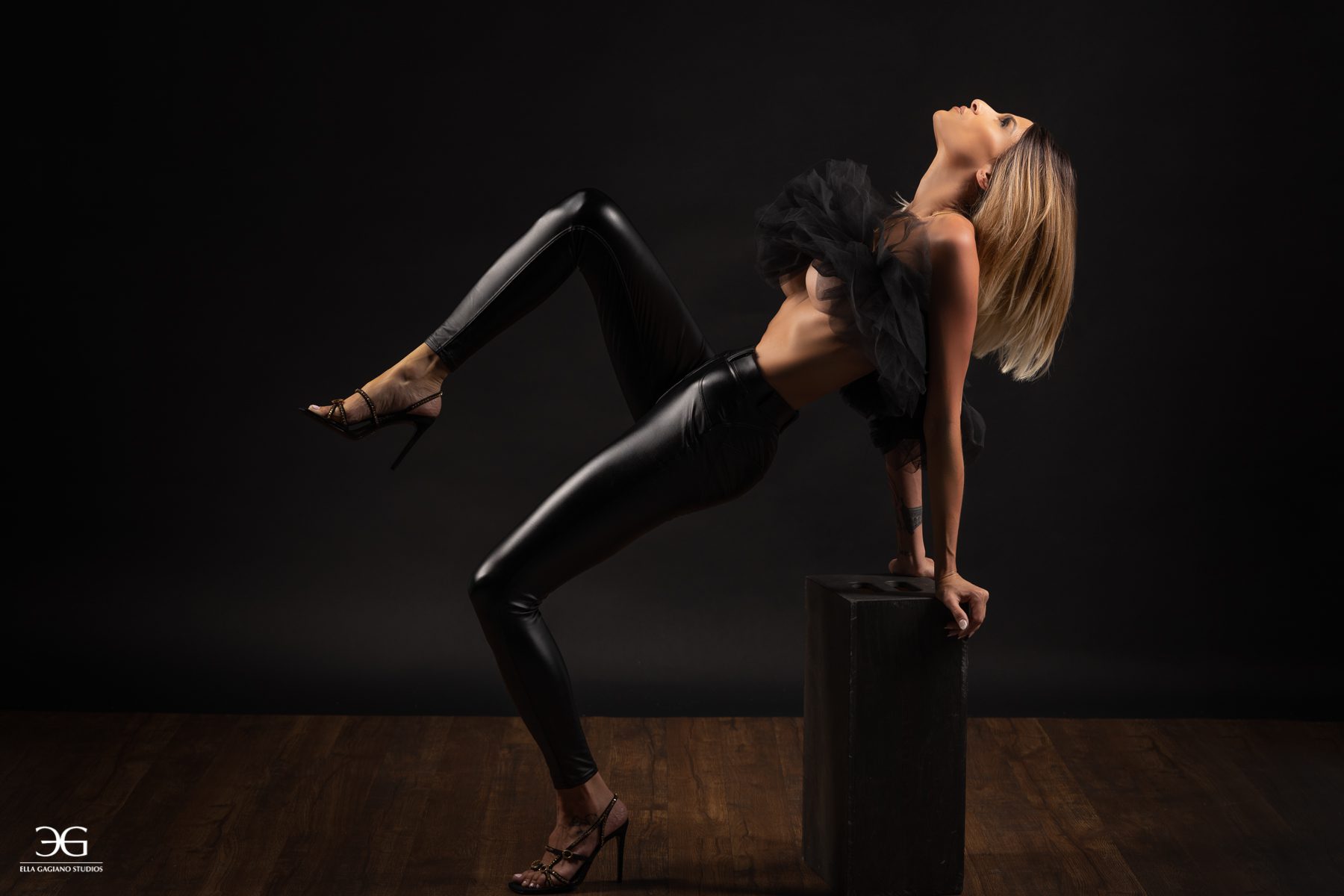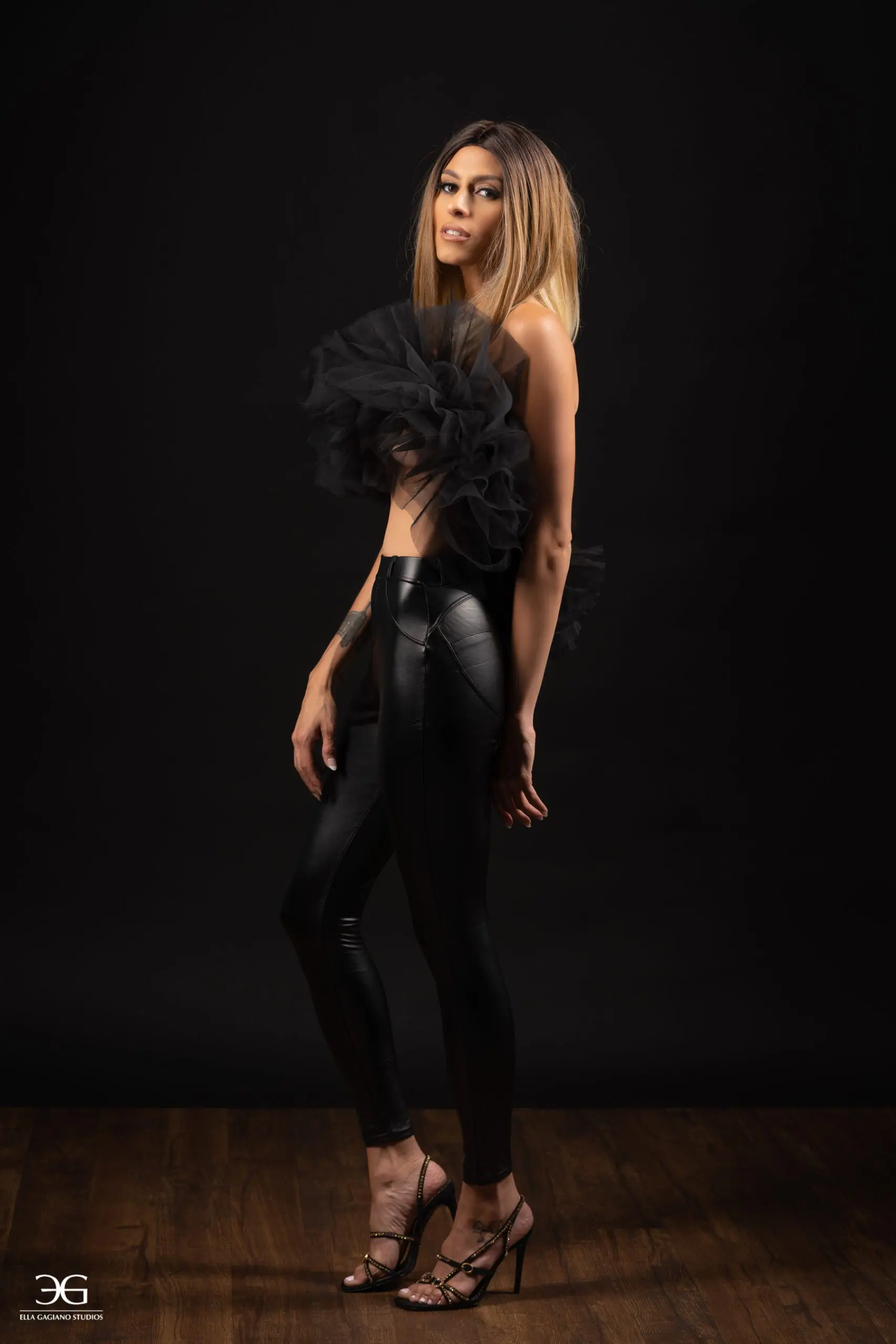 If you are still struggling to figure out what YOU want, but you know for certain that you want to get your portfolio going, then don't wait to contact us.
One of our favorite things to do in our studio is help our clients figure out what works best for them and create a custom experience.
We guide you, help you pose, and even have an amazing hair and makeup team available that can create the final touches for your perfect look.
For Melissa's photoshoot in our Las Vegas Photography Studio, we use our wonderful team – Las Vegas Makeup Girl
Many of our clients love working with us since one of our superpowers is hearing what our clients want!