Boudoir Style Shoot
Before you learn the secrets of a successful Florida boudoir photo shoot, let's look at what a boudoir-style shoot looks like.
Meaning of the Word Boudoir
First, let's define the meaning of the word "boudoir."
The word, which appeared in the distant 18th century, has French roots and refers to a room, specifically a bedroom or dressing room.
Boudoir Photography
Boudoir photography is a type of portrait shoot where the model poses in lingerie or is partially clothed.
Boudoir Photos Do NOT Equate To Nudity
Let us clarify that a boudoir-style photo shoot is not about nudity. Nudity only plays a secondary role.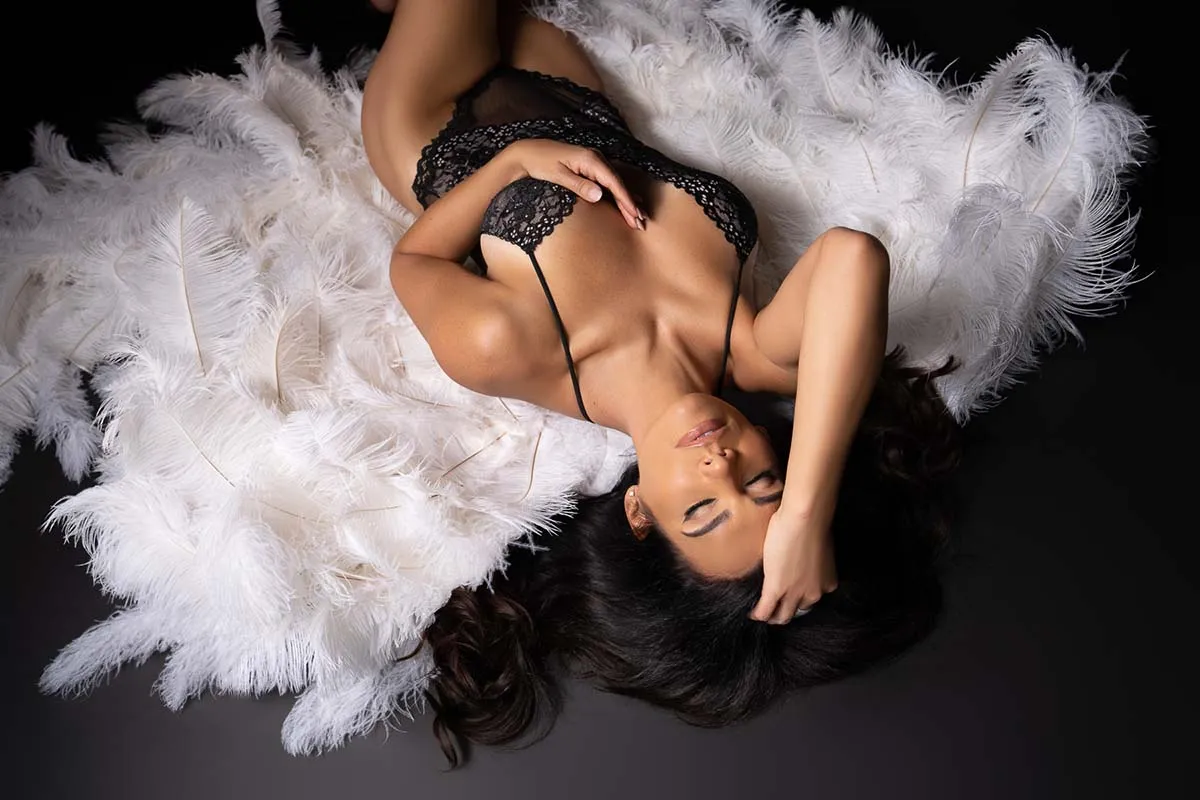 A photographer who wants effective Florida boudoir photos for their portfolio will face some challenge since they need to create an attractive image without veering into full-blown nudity and without violating the aesthetics of the image.
The photo should look beautiful and seductive but not vulgar.
Boudoir Photo Shoot Tips and Information
Boudoir photography is a new, fresh trend in wedding photography that is gaining in popularity.
For photographers, it presents an excellent opportunity to take wedding photos that push the boundaries on conventional norms. For brides, it is a time where they can indulge in creative expression on their wedding day.
Boudoir photography is gaining popularity in the Western world.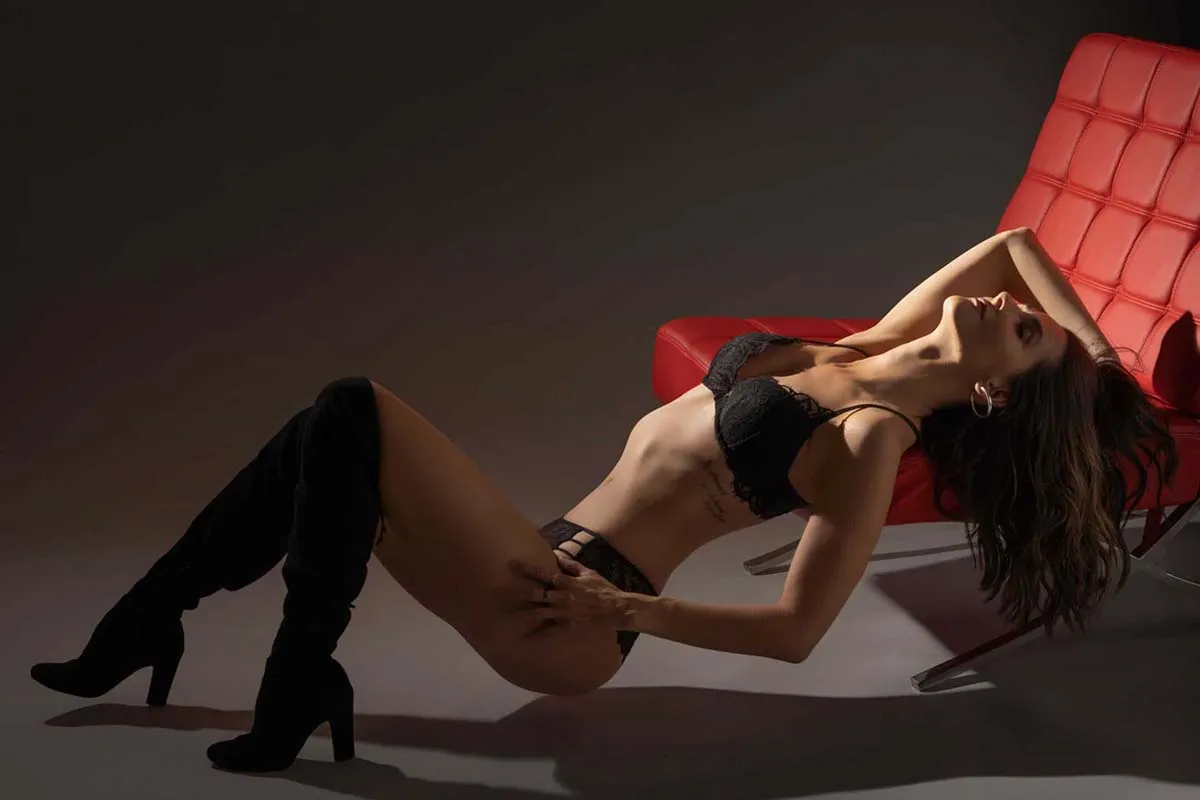 When we think of erotic photography, we tend to think of perfectly fit models with flawless facial features.
But the truth is that this type of photography does not require any particular female profile.
Women of all kinds can arouse sexual interest by revealing their more intimate side.
However, it is vital that the model in question feels calm and comfortable and that she can express her femininity and natural sensuality without feeling like she is violating taboos.
What Is The Advantage of Boudoir Photos?
Unlike ordinary bridal photos, a boudoir wedding shoot requires the bride to reveal her intimate self.
The greatest advantage of boudoir photos is that they allow brides to take photos of themselves that they can share with their partner or have on hand for personal reference.
Creating The Right Atmosphere For Your Boudoir Photos
To have an excellent boudoir photo shoot, you need to establish a comfortable environment where everything flows.
Boudoir photo sessions can be done almost anywhere that is reasonably private, although we suggest avoiding boring environments and choosing ones that stimulate and motivate you.
The type of photographic material you use, your equipment, and your lighting sources also need to be considered.
In boudoir photography, we emphasize tenderness, nuance, softness, and eroticism.
Using sources of light that are too harsh or strong is not recommended.
If possible, we take our photos with a natural light source or use tools (such as an umbrella) to soften artificial light.
We always seek to convey class and sensuality in our images.
Teasing The Audience With Boudoir Photography
For boudoir photographs, we suggest not showing every intimate detail and instead teasing the imagination of your audience.
We will coordinate with you to add all the special elements that work to cultivate sexuality.
Making The Model Comfortable
One of our most important tasks is to make our models comfortable.
If you are interested in photography and want some pointers, our advice is to create an easy-going, humorous environment that makes it easy to relax.
If you need a lighting assistant or any type of other assistant, it's important that they be someone your model is comfortable with having around during intimate shoots.
Close-ups During Your Boudoir Photo Shoot
Close-ups have great power in photography and are very good at showing eroticism.
In our experience, to make close-ups good, you usually need to convey softness and naturalness.
Although we certainly encourage the use of makeup, we do tend to keep it to a minimum so that the true beauty of our models can shine through.

Choosing The Right Boudoir Photographer
As you search for your photographer, answer these questions:
➢ Why do I want a boudoir photo shoot?
➢ What do I hope to gain from the procedure?
➢ How do you want to look in the photo?
➢ What is essential to you?
Perhaps what is essential to you is as follows:
○ A new experience or emotion
○ To embody an unfamiliar role
○ To discover your femininity and sexuality
○ To capture yourself at the peak of your beauty and attractiveness.
Picking The Right Photographer
Choosing the right photographer is important for the success of your photo shoot.
Take this part of your photo shoot seriously because your photographer's skill and professionalism will ultimately dictate the outcome of your shoot and its quality.
Cheaper Is Not Always Better
Although we encourage you to save money as much as possible, cheaper is not always better.
Instead, it's best to look at the portfolios and pricing of several photographers you like and pick one that strikes the best balance between quality and price.
Friendly and Helpful Photographers
You'll also want to ensure you pick a photographer who is friendly and helpful.
Read what they write on social media and see how they communicate with their followers.
Photographers that are friendly, punctual, and helpful are always the right choice.
Your Photo Shoot Consultation
Once you've found a photographer who seems right to you, your next step is to call them for a consultation.
During your preliminary meeting with them, you'll want to discuss all the nuances that are important to you.
What do you want to emphasize about your appearance, and what do you want to hide?
These are two important questions to ask.
The more details you provide about your wishes, the better the result will be.
Private or Public Photos
If you want your photography to be private, mention it beforehand. This way your shots won't be published on the site or in the photographer's portfolio.
A professional photographer will treat your private photos appropriately, saving you from worry about how your photos will be used, which is very important when doing a Florida boudoir photo shoot.

References (examples photos)
During your consultation, provide references—examples photos that you'd like to see.
Florida boudoir shoots can be quite different, so it's essential to find examples you like.
You can use Pinterest for this purpose. It's a great resource.
Next, decide on your style, image, clothing, or lingerie items. Makeup and styling are best left to a professional.
To make the image sensual but not vulgar, give preference to the entire body, not just the private areas.
It's also a good idea to avoid doll curls. They can sometimes cheapen an image, although they can also work well in certain instances.

Preparation For A Successful Shoot
#1 Body Preparation
Ideally, prepare a week before your photo shoot.
During this period, give up bad habits—avoid alcohol and smoking. And keep to your sleep schedule.
This will help improve your overall appearance and increase your vibrancy.
Other pieces of advice include:
Taking care of your diet.
Avoiding tanning beds (if anything use a light bronzer).
Getting a manicure and pedicure in neutral tones.
Waxing.
Following these recommendations will help you show up looking and feeling your best self on the day of the photo shoot.

#2 Picking The Right Outfit
Our advice when doing a photo shoot is to wear what you like and what feels comfortable.
Boudoir photos can work with many different types of outfits—lingerie, a nightgown, pajamas, a robe, etc.
It's common for models to avoid wearing just a bra and panties, as not everyone feels confident wearing these in front of a camera, and not everyone needs to.
Excellent photos can be taken in a long shirt, a beautiful robe, and so on.
#3 Choosing Where You Will Do Your Photo Shoot
If your home environment allows it, you can invite a photographer to your home. Home photography is good if you like your interior.
We just advise you to discuss with your photographer to determine whether your home is the right environment for the photo shoot.
#4 Deciding On Your Hair and Makeup
You can save money on a stylist if you do your hair and makeup yourself.
Usually, photographers think differently and insist on a stylist, but in my practice, I have had cases where a stylist has done an unsuccessful job.
Don't misunderstand. Stylists are good to use. But you'll only want to pick one if you are unable to complete your hair style and do your makeup the way that you want. It's a give and take.
#5 Picking A Time To Shoot When You Have Stamina
After an hour and a half of shooting, you will probably be tired.
So, for beginners, we advise that you pick a time to do a photo shoot when you are fresh and that you to limit yourself to 1-2 hours.
It's also a good idea to take water and a light snack with you.
#6 Creating A Mood Board
A mood board is a collection of pictures that you assemble to set an intention. You can create a mood board on Pinterest and just download it to your phone, or you can send it to your photographer in advance.
Using your mood board, you can convey your wishes to your photographer.
#7 Establishing The Right Atmosphere
Playing music is a simple but effective way to establish a great atmosphere. We suggest listening to it while you do your photo shoot!

#8 Loose Clothing May Be More Beneficial
Lingerie marks, traces from straps, and elastic band marks stay on the skin for a long time.
This is why we advise you to go to your photo shoot in clothing that is loose enough not to leave marks.
#9 Your Photo Shoot Deadline
"How long do I have to wait for my photos?" is a good question to ask your photographer.
I advise you to discuss this with your photographer before you begin the photo shoot so that you don't get upset and say to yourself something like, "Well, it's September, and my summer photos are still not ready."
Usually, photographers have deadlines of one to two months.
If you like a photographer's work, but he needs an extended deadline, we suggest having them produce 2-3 photos quickly. Later, the photographer can finish developing the rest of the photos.
Relax and Have Fun
The most important thing when doing your Florida boudoir photo shoot is to enjoy yourself.
We encourage you to discover and enhance your self-expression since this will help you develop as a person and seize new opportunities as they come.
Florida Boudoir Photo Shoots Are An Art Form
The main purpose of Florida boudoir photography is to convey feelings of love and tenderness, focusing on the emotions of the heroine of the photo session, her mood, and her state of mind.
Florida boudoir photographs are undoubtedly the perfect gift for your partner, whether for a birthday, a wedding, or just an important date for both of you.
A Flash Back To The Past
The boudoir style is in many ways a return to the past, to the times of elegant ladies and irresistible courtesans, love notes, and romantic secret dates.
Florida boudoir represents luxury, so there are unwritten rules for a photo session of this type. You'll want to decorate your shoot with antique furniture and find materials, such as silk, velvet, and fur.

More About Your Florida Boudoir Photo Shoot
The best place for a boudoir photo shoot is inside a professional photo studio.
The benefits of using a photo studio include:
Proper lighting
Comfort for the photographer and model
Access to thematic props that will help you enhance your photos
No distractions, i.e., no extra people
An indoor setting that avoids troublesome weather conditions
Why Get A Florida Boudoir Photo Shoot?
The benefits of a boudoir photo shoot include the following:
Giving an original gift to your partner
Filling out your portfolio
Attracting lovers
Seeing yourself in a new way
Expressing your sensuality
How Long Do Florida Boudoir Photo Shoots Take?
Florida boudoir photo shoots usually take about 2 hours, as they require preliminary work on makeup and hair before the shoot begins.

Who Is An Ideal Candidate For A Florida Boudoir Photo Shoot?
Professional models, brides before their wedding, married women, and those who want to experience something new are all ideal candidates for a Florida boudoir shoot.
Participating in boudoir shoots for most people requires that they get out of their comfort zone. So, if this is something you'd like to try, call us today.
To see more examples of our work, check out our Florida boudoir photos.