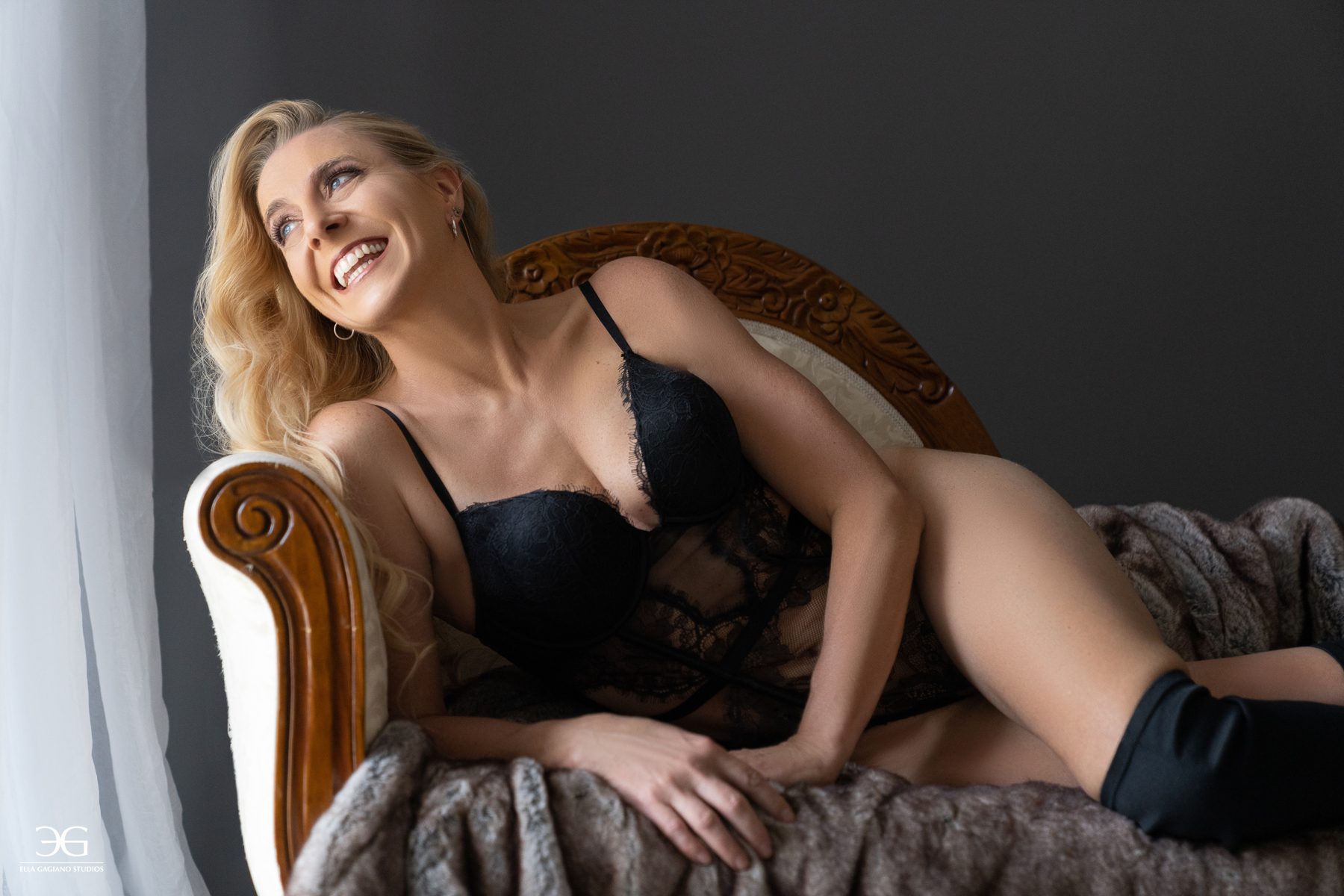 50th Birthday Boudoir
If you are thinking "holy crap I am really turning 50" then welcome to the club. We hear it all the time, and yes you are not alone in feeling all these big emotions. The one thing we love hearing is how sexy and confident women feel at 50.
And we hear it often! 50th Birthday Boudoir sessions have become one of our most inquired sessions and yes, while there are nerves and worries about inquiring to do a boudoir session, the moment we let our clients know they are actually on the younger side of our clients all of a sudden we get the truth; our ladies feel confident in who they are and want to celebrate it!
We've learned from our clients that you still got it at any age, and ladies let me tell you we've had 70 year olds in our studio who were rocking it better than the 30 year olds. (No shame at all to our younger ladies! We just know that the stereotypes are like for anyone 40 and over)  And there is something so sexy about confidence.
At 50 you know what you want and you aren't afraid to say it!
And we've learned that there is nothing better than getting older and knowing what you want, feeling confident in yourself, and feeling great owning it, because "this isn't what I thought 50 would like" doesn't mean you can't redefine it.

What is 50?
50 is a number that you define, not one that defines you. 
Let's be real honest with ourselves right now, you are wanting to do a 50th birthday boudoir session because you are feeling it, you know you still got it and want to celebrate it. You know that it's taken you awhile, but you are confident in who you are, what you want, and not afraid to admit that you are still feeling sexy.
And we are here to tell you we got you! Our goal is to focus on who you are, what you want to celebrate and create an experience that you walk away from smiling ear to ear cause you aren't ashamed to own it.
So tell us, what is 50?
You are the only one who can define what your 50th birthday means to you, so don't be afraid to shout it from the roof tops! 
How to celebrate your 50th birthday
This is a time to live! You have been so many things in your life, from daughter, sister, mother, aunt, boss, grandmother, etc There are so many things we as woman are that it's time for us to take a step back and celebrate the most important title of all, "me" 
What do you love? What is fun for you? How do you want to honor yourself? These are all the questions we want to ask you and more. You have so much to celebrate that it's time to let someone else take care of you.
Your birthday should focus on what makes you feel the best. Are you wanting to go all out and be sexy and bold? Do you want to see the softer side and feel free? What makes you you?
A boudoir session is the perfect 50th birthday celebration to give yourself something to feel good about not only now, but years to come. You not only deserve to be taken care of but you've certainly earned it.
At our studio our team focuses solely on you. From the moment you call to the moment you receive your photos everything is about creating a unique experience for you.
Before you even step foot in our studio we want to know what makes you feel the best, what your hopes are for your session, and really understand who you are.
Day of session we have make up and hair included where you will be able to be pampered and taken care of as you start off your day relaxing with champagne. 
We recommend bringing 2-4 outfits for your session to create diverse looks that make you feel amazing. During the actual photoshoot, Ella will be guiding you through all the different poses, and creating custom looks that will capture what makes you feel the best.
Afterwards we will perfectly edit your photos and have you return to have another amazing experience to select your favorite photos to create the perfect keepsake to remember the strong, beautiful, confident, and still sexy woman you are.
What to expect from your boudoir experience?
Boudoir should leave you feeling confident, have you walk away smiling, and leave you wanting to do this again!
Leading up to your session from your first inquiry we want to understand your goals and who you are. The best way to prep for a session is by being ready to be vulnerable and honest! 
We know that we talk about the confident, sexiness, and everything else that comes with being 50, but realistically we are women and we have our insecurities. 
Boudoir isn't about putting a mask on and hoping for the best, it's about being honest and tearing down those walls and rebuilding. Boudoir is vulnerability in all accounts, but within that you find the freedom, the strength, and so so much fun in letting go of everything that's held you back! 
Your 50th birthday boudoir session will be the birthday celebration you will brag about for years to come.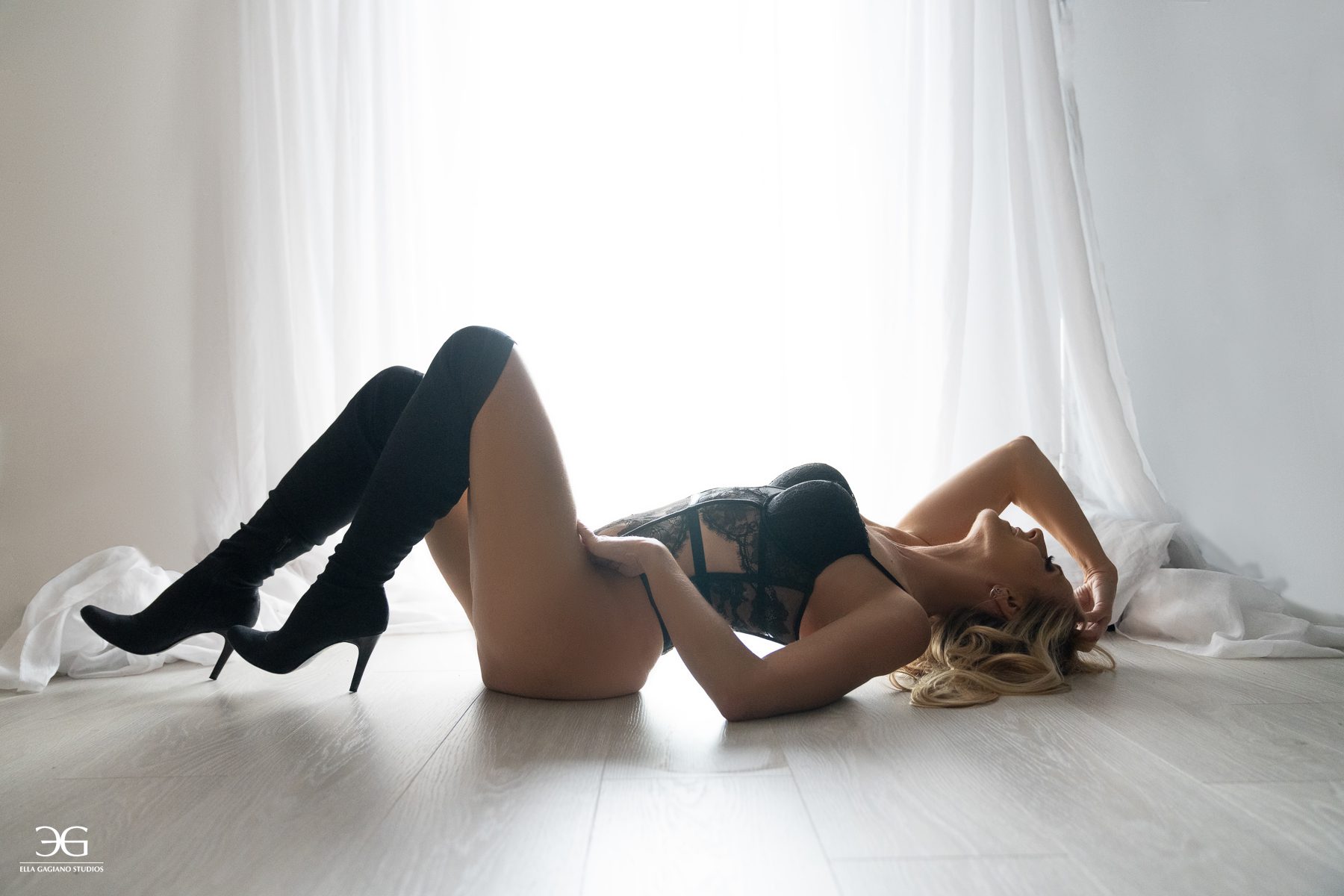 When should I plan for my 50th birthday boudoir session?
Like any big celebration you want to plan it in advance. 
Now, if you are reading this and your birthday is next week, please don't let this deter you, as at the end of the day even if it doesn't happen day of it is still worth being late on!
With that said, there will be a few variables in planning for your boudoir session that will be completely unique for each person.
Are you wanting to have your session done on your birthday or around it? Or would the goal to be have the photos ready by your birthday?
What is the goal of your session; would you want to have custom album, a stunning luxury wallart, digitals to share with friends?
Do you already have outfits ready or do you need time to shop?
These are the three biggest questions that will effect when you should plan your boudoir session.
If you are wanting to have a boudoir session on your birthday we recommend booking a session as early as possible to increase the likelihood of availability, we book sessions up to a year in advance so that will give you plenty of time to secure your boudoir photoshoot on the day of your birthday.
If you are a little more flexible on dates then we recommend typically reaching out two months in advance. Now that doesn't mean if your birthdays in a couple weeks you shouldn't reach out, we are always down to try to make something happen to help create an amazing experience!
If you want to have any physical product then we also recommend keeping in mind that all our product is handmade in Italy and typically takes 3-6 weeks to design, create, and ship. Meaning if you would love to have a beautiful custom made wallart from your boudoir session of you feeling your best and want to proudly display it by your birthday then we suggest booking2 months prior to your 50th birthday.
Lastly! Outfits! Yes, this does take in to account outfits, if you have no deadline and want to have fun, we recommend reaching out and giving us a call to help you plan your perfect session while on the phone we can also talk about dates and get your session in and make sure you have enough time to shop and plan the perfect looks. If you already have everything and are beyond excited to get your session going then we can absolutely get you in at our soonest availability!
What should I wear for my boudoir session?
This is where this gets fun! Picking out the perfect outfit for you for your boudoir session should be all about what makes you feel the best!
We are experts at understanding how to translate the feeling of what you want into the perfect outfits to make you feel the best. Our biggest advice to all our clients though is do not get caught up with advice from online! (Yes, we know you are reading this online too lol) But seriously sometimes there is so much technicality when it comes from advice online the biggest thing they forget is you should just feel good when you wear it and love it!
Some outfits will say one thing and others another. Do you want to feel bold and sexy? We typically would recommend black or red lingerie. If you want to feel soft and romantic stick with the softer colors and whites. Are you into the glam? Well, try some gold lingerie or something pink and feel like a goddess. At the end of the day the goal is to love what you are wearing and feel free in choosing to be yourself.
If that means you don't even wear any lingerie then go for it! We've had clients bring in sexy dresses, cowboy hats and shorts, even just loose sweaters for that cute and cozy look. 
Everyone is unique so be yourself and be ready to have fun.
How to deal with the nerves of a boudoir session.
Feeling nervous before your boudoir session is completely normal and to be expected and to tell you the truth, we kinda want you to feel that way.
Yes! We said it, but it's the truth, you should feel a bit nervous, that is what makes it so fun. 
Haven't you been on a roller coaster before? You spend the whole line super excited and anticipating it, but the moment you are on the ride and you start slowly go up the first incline you are praying to get off the ride? Yeah, we've all been there and that is what makes it so much fun, because once you drop it is absolutely worth the anticipation! 
Nerves are just excitement that you cannot control and we need to feel that way again. When is the last time you stayed up all night waiting for Santa Claus, or couldn't sleep because the first day of school was happening? It's been years since any of us felt those butterflies and the feelings of firsts. 
We are here to say enjoy the ride and know that by end of your session you'll already be wanting to get back in line for another session.
What to expect after your boudoir session.
Post boudoir session is personally our favorite part of the entire experience. We know that sounds crazy, but there is a reason. 
You've picked out your outfits, figured out what you want to celebrate for your 50th birthday, and now you've had an amazing boudoir photoshoot, what is next?
You might think all the fun is over and thats the end of it, but this is where everything you've planned comes into fruition.
You get to have the life changing experience that you absolutely did not expect to have. More times than we can count our ladies will come in to view their photos they end up crying in disbelief. 
For the first time in their lives they've seen themselves the way others do, they see the beauty, their joy, their strength. They see all the things they never see when they look in the mirror. 
It doesn't matter if you feel good or feel insecure or nervous when you come through our doors, because it's always absolutely thrilling to be so empowered by being yourself.
Is this the best way to celebrate your 50th birthday?
If you are asking this question right now, then we can tell you absolutely yes. A 50th birthday boudoir session is not only what you want but exactly what you need!
You've looked at our testimonials, you've read our blog posts, and you've seen our portfolio. You want to do this, but you are scared and that is okay!
A 50th birthday is a big celebration you've done so much in life and what to go big and celebrate in a big way. There are so many options out there, but we believe if you were already looking into this you know in your heart you want to do go bold and do something for yourself. 
Schedule a consultation with us, there is no commitment to have a chat to see the excitement we have for you and what we can do to help create the perfect birthday present. 
While you wait for your scheduled consultation look at our clients boudoir testimonials to see what real clients reactions were to their boudoir photoshoot.